Meet the Amish Makers Itinerary
$80 per person
Tuesday, June 13, 2023
8:00 a.m.  Royal Excursion arrives at The Elkhart County 4-H Fairgrounds
8:15 a.m. Depart Fairgrounds with your Heartland Volunteer 9:00a.m.-5:00 p.m. Meet the Amish Makers Backroads Tour
The warmth of a hometown welcome awaits your group in beautiful Nappanee. Your Amish guide will share her faith, culture, and knowledge of this very close-knit community. Hear the steady clip-clop of horses on peaceful country roads connecting groups to a simpler time. Your day will be filled with authentic experiences as you visit businesses necessary to Amish settlements. Loads of group friendly options and tasty treats will round out your experience. Together with your guide you will come to see why their town motto is "Embrace the Pace."
9:15a.m. - 10:15a.m. Meet an Old Order Mennonite buggy maker
Many do not realize that there are horse & buggy Mennonite churches as well as Amish. While similar there are many differences including the design of their buggies and churches that set them apart. You'll enjoy an informative seated presentation of their customs and a peek at this private collection of toy buggies and wagons, followed by a walking tour of his impressive inventory of the real thing. A workshop tour winds up this exclusive experience.
10:40a.m.-11:40a.m. Meet an Amish Woodcarver - Chuppville Wood
NEW! Meet a fascinating Amish wood carver who specializes in Rococo design considered by many to be a lost art. This very talented craftsman carves furniture, accent moldings and unique stocks for antique guns. He specializes in carving burls a very difficult feat to accomplish. He also teaches art students and other would-be carvers. No inside sales, informational stop only.
11:50a.m.-12:30p.m. Visit Rentown an Amish Bulk Food Store
Affectionately known as "The Cheese Place" An experience any time of the year. The cheeses are abundant, with over 80 varieties on hand. But cheese isn't the only thing you'll find here-- from deli meats and bulk foods to housewares, gifts and toys there is so much to see and sample
too! In the fall, good old-fashioned delights are in store at the Annual Rentown Old Fashion Days. Steam and antique tractors showcase this event, while threshing, wood carving, cider press, and rug weaving demonstrations reveal old-time skills and more.
12:45-2:15 p.m. Mullet's Dining Family Style Dinner
Welcome to the Mullet family homestead featuring authentic Amish cooking served in a relaxed atmosphere in their banquet building. This family style meal is served to the table in large bowls and platters where guests are guaranteed not to go away hungry.
2:30p.m.-3:00p.m. Visit an Amish clockworks shop - demo & workshop tour Where old world craftsmanship is the hallmarks of every clock they build. This family owned and operated manufacturing facility specializes in building one kind of product: beautiful heirloom timepieces. They craft clocks out of locally grown, milled and kiln-dried wood. Triple Chime Grandfather clocks, Mantle clocks, and exclusive Precious Melodies Clocks are produced on site. The Precious Melodies line of clocks has become a favorite in Amish communities.
Precious Clocks for Precious People. No credit cards
3:15p.m.-4:15p.m. Visit Kuhns Orchard, Cannery & Amish Dairy Farm
A stop at Kuhn's Orchard Cannery and Dairy is an educational pleasure! Prepare yourself for a look at local commerce the Amish way. This dairy is part of a cooperative that provides a unique and natural dairy option for your daily glass of milk. Their signature cream-top milk comes in a variety of natural flavors, using only real ingredients. They believe in the importance of knowing where your milk comes from - and that's here - in Amish Country, Indiana. Take it - Shake it -Taste it, the milk speaks for itself. In keeping with the theme, they also produce fresh and homemade jams, apple butter, organic mother included vinegar and so much more. Visitors will see a working cannery; a cider press with a finish for the win in with a private jam tasting included. Enjoy a unique agricultural experience on a family-owned farm.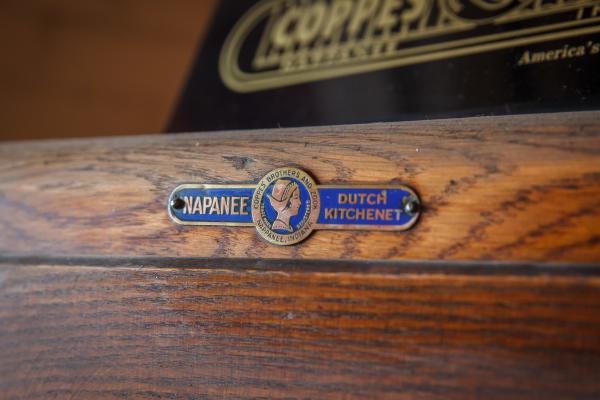 4:30p.m. - 5p.m. Return to the Nappanee Center see the Evelyn Lehman Culp Heritage Collection
Founded at the Nappanee Public Library in 1971 this hidden gem is still maintained by the library today and tells the story of Nappanee through permanent, rotating, and special displays. Attractions include several "Hoosier" cabinets made in Nappanee, a tribute to the city's six nationally known cartoonists, an Air Force One display and the historic John Hartman House and most recently the Emma Shrock Collection.
Be sure to save time to see the Quilt Garden anytime from June 1 - September 15th with new patterns every year it's bound to be a blooming surprise highlight of your stop!
5:00p.m. Depart Nappanee for Goshen
5:30 p.m.  Arrive at the Elkhart County 4-H Fairgrounds