Handcrafted & Historic Itinerary
$110 per person
Tuesday, June 6, 2023
See the works of some of the Midwest's greatest artists including Indiana's largest Norman Rockwell collection. Revel in the majesty of a Beaux-Arts mansion that "Alka-Seltzer built" while admiring Tiffany's and Rodin's. You'll be amazed at the stories, admire the beauty, and learn how Elkhart County's history has impacted our nation on this multi-dimensional tour combining art, culture, history, and simple fun!
8:00 a.m. Local step-on guide arrives at the Goshen Fairgrounds guide for the day 8:15 a.m.  Cardinal Bus Arrives at the Elkhart County 4-H Fairgrounds
8:30 a.m. Depart Goshen for Elkhart
9:00 a.m. - 10:30 a.m.  Ruthmere Mansion Tour
Who remembers the famous Alka Seltzer advertisement, "Plop, plop, fizz, fizz, Oh, what a relief it is"? Elkhart, Indiana was the home to entrepreneur Mr. Albert Beardsley who helped found the company that created Alka Seltzer. His elaborate 1910 Beaux-Arts style house, Ruthmere, named after his deceased daughter Ruth, is available for your groups guided tour. You'll see a fine art collection including Tiffany leaded glass, Rodin sculptures, velvet window coverings, hand painted walls, and walnut woodwork.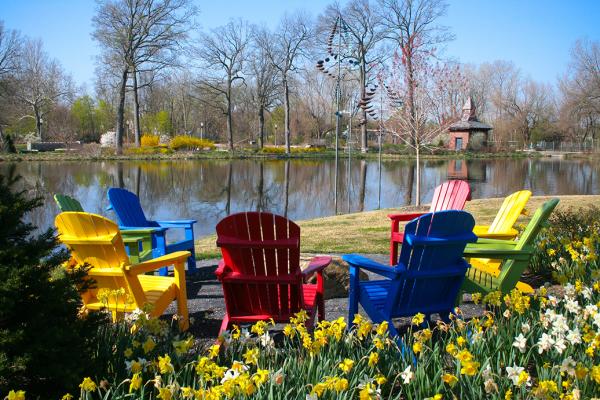 10:45a.m. - 12:15 p.m. Wellfield Botanic Gardens
Wellfield Botanic Gardens accepts as truth that mankind is inseparable from nature while sharing a natural and man-made environment of unique beauty that attracts, inspires, and educates. The Gardens are situated on 36 acres including 18 acres of water and includes a ½ mile paved walking trail-path to a variety of themed gardens featuring water displays, sculptures, plants and beauty of nature.
12:30 - 1:30 p.m. Irish Feast Lunch Buffet at Hotel Elkhart
Welcome to downtown Elkhart and the newly renovated historic Hotel Elkhart which has been a downtown Elkhart landmark since it opened its doors in the early 1920s. Back then, the city was on the cusp of a renaissance with a shining new theatrical palace on Main Street and a humble RV manufacturer that would soon make Elkhart a microcosm of the RV industry. And in the center of it all was this 100-room grand hotel, hosting America's highest dignitaries like Bob
Hope and JFK in jazz-age elegance that you can still see in our lobby and ballrooms today. In the late 1920s, the Athenian Ballroom was added, making Hotel Elkhart the tallest building in the city with the best view of the Elkhart River. In 2021, to the delight of the community, Hotel Elkhart returned to its original purpose as the city's downtown hotel, 98 years after its opening.
Irish Feast
Pub salad, hard-boiled egg, house greens (spinach, arugula, Brussels, red cabbage), green beans, cucumber, tomato, blue cheese

Whiskey glazed corned beef

Colcannon mash

Lentil cottage pie

Guinness brats, caramelized cabbage, and bacon jam

White fish cakes with dill tartar sauce

Steamed carrots and potatoes

Cheddar chive Irish soda bread

Assorted desserts and cookies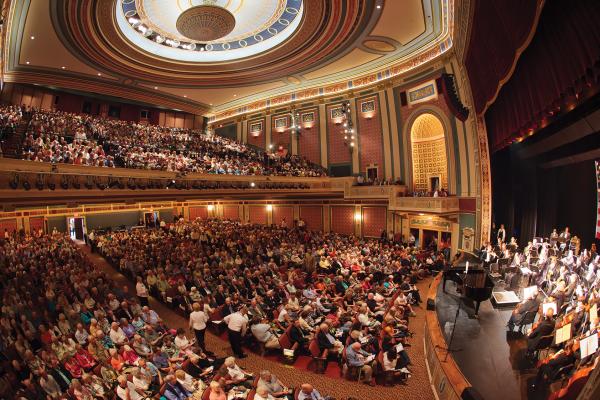 1:45-2:45 p.m.   Behind the Scenes Tour of the Lerner Theatre by the Friends of the Lerner
In 1924 Elkhart businessman, Harry E. Lerner, constructed a modern "theatrical palace" in downtown Elkhart. The 1,700-seat theatre hosted a variety of vaudeville, big band and theatrical reviews including stars such as Bob Hope. Today, the newly renovated Lerner Theatre captures the grandeur of its original 1920s design while being equipped with the finest structural, acoustic, technical, and theatrical requirements of today and tomorrow. You get a backstage look and more touring this impressive theatre.
3 p.m.  Depart Elkhart for Goshen
3:45 p.m. Arrival at the Elkhart County 4-H Fairgrounds