Concoctions & Confections Tour
$50 per person
Wednesday, June 14, 2023
Your senses will come alive on the Concoctions & Confections Tour. Get a behind-the-scenes glimpse of artisan soap-making using local ingredients.
9:00a.m. Local Step-on Guide arrives at the Elkhart County 4-H Fairgrounds
9:15 a.m. Royal Excursion Arrives at the Elkhart County 4-H Fairgrounds
9:30 a.m. Depart Goshen for Ligonier
10:00a.m. - 11a.m. Annie Oakley Perfumery Studio Tour
It's a concoction for the senses! Learn the enchanting story of how a fragrance and its brand is born on this fun adventure through this perfumery. Meet perfumer and owner Renee Gabet as you take a walking tour through the perfumery process including the bench lab where fragrances are created and blended to bottling and distribution.
See perfumes being hand-made and have an amazing sensory experience including some rare and vintage essences. Sample more world class fragrances and essences in the gift shop after your tour and perhaps even create your own signature personalized fragrance just for you!
11:30a.m.-1p.m. Lunch on your own at South Side Soda Shop
Dine in a restored diner with dining car & a 1940s soda fountain on classic American eats, shakes & malts. Featured on The Food Network "Diners, Drive-ins and Dives" and in Gourmet magazine. In- house bakery, daily specials, fresh seafood, chili, homemade soups, sandwiches & pie.
Pre-Fixed Menu may include the following options:
Include lunch for each person and take pre-arranged orders from this limited menu/pricing:
Option 1: Choose two from: ½ salad (choose from tossed or spinach salad) OR ½ sandwich (choose from tuna or chicken salad) OR mug of soup (choose from chili or soup of the day- Wisconsin Cheese) served with assorted pie slices and beverage - $18.31 pp incl tax & tip or with ice cream, no pie - $17.34 pp incl
OR
Option 2: Cheeseburger & fries, served with pie slices and beverage--$20.55 pp incl tax & tip or with ice cream, no pie—$19.59 pp incl
OR
Option 3: Full Sandwich (choose from turkey club croissant, Breaded Pork Tenderloin, or Reuben) served with pie slice and beverage--$23.11 pp incl tax & tip or with ice cream, no pie - 
$22.15 pp incl
OR
Option 4: Full Philly Cheese Steak Sandwich served with pie slice and beverage - $20.87 pp incl tax and tip or with ice cream, no pie - $19.91 pp incl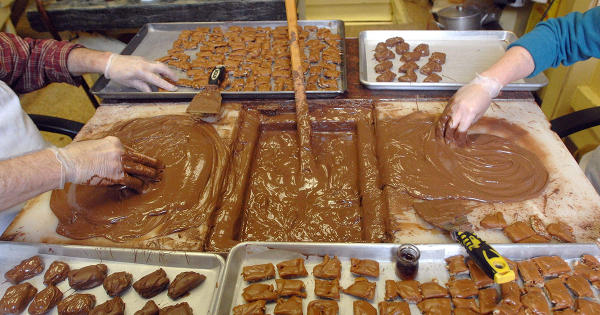 1:15p.m.-1:45 p.m. Olympia Candy Kitchen Shopping for Chocolates served to Presidents
The Olympia Candy Kitchen has been welcoming visitors for almost a century in its unchanged location in downtown Goshen, Indiana remaining a family run business, passed through 4 generations over 100 years.
All their candies are handmade from scratch including the famous Turtles, which are made with their own home- made caramel, plus the famous Chocolate - Covered Cherries, which were so popular that they were served at the Inaugural Balls of both President Reagan and President George H.W. Bush. They also offer a wide variety of the highest quality hand-dipped sweets, such as creams and chocolate covered peanuts plus a great selection of gummy candies, jellybeans, licorice, and other non-chocolate treats.
2:00p.m.-2:45 p.m. Soapy Gnome Concoction of Handcrafted Soap
Welcome to an independent shop in Goshen, Indiana, specializing in handcrafted soap and body care products. Soap made with locally crafted beer. Soap made with local fresh pressed apple cider. Soap combining Lavender with herbs. These and many more interesting and unusual concoctions make up her handcrafted and aromatic soaps, lotions, body bars, oils and more. Her cozy and warm welcoming shop Is filled with great things to shop and enjoy!
3:00p.m.  Return to the Elkhart County 4-H Fairgrounds