Classic Cars & Golden Domes Itinerary
$65 per person
Friday, June 16, 2023
8:00a.m. Local Step-on Guide arrives at the Elkhart County 4-H Fairgrounds
8:15a.m. Cardinal Motorcoach Arrives at Fairgrounds
8:30a.m. Depart Goshen for South Bend
9:15a.m. - 11:45a.m. University of Notre Dame Walking Guided Tour
Experience the mystique of the University of Notre Dame with a guided walking tour of the beautiful historic campus. Meet your graduate student guide at the Visitors Center for a tour of campus with the 20-minute movie shown in the Eck Visitors Center. Allow time for shopping at Notre Dame's 30,000 sq. ft. bookstore, complete with crystal, china and a grand piano.
12:00p.m.-1:45p.m. Tippecanoe Place Lunch, South Bend
Tippecanoe Place, with four main levels totaling 40 rooms and 20 fireplaces, is the embodiment of everything great wealth in the late 1800's could suggest. The 26,000 square-foot mansion was designed by Henry Cobb and built by local craftsmen for the Clement Studebaker family. Work on Tippecanoe Place was completed in 1889 at a total cost of $250,000. It would serve as the setting for many lavish parties, weddings, and balls. Guests would arrive by carriage and enter through the west doors.
They would board the elevator - one of the first in the country - and be whisked upstairs to freshen up. The formally clad ladies and gentlemen would then descend the Grand Staircase into the Reception Area. Then, as today, Tippecanoe Place was known for its hospitality and as a gracious setting for fine dining. Lunch is a served plated meal.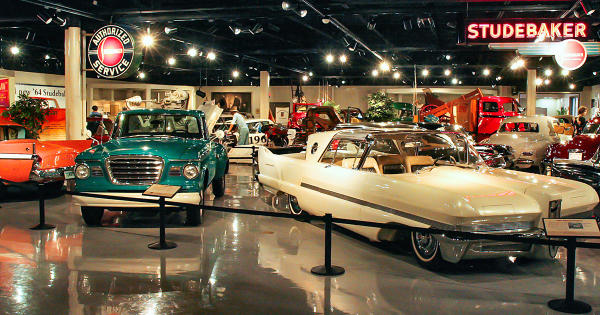 2:00p.m.-3:30 p.m. Studebaker National Museum
Admire nearly 70 timeless vehicles, including one-of-a-kind classics like the 1934 Bendix, the 1956 Packard Predictor concept car and President Lincoln's Carriage. Tour its 50,000-square- foot "production line" and see military trucks and vehicles with state-of-the art lifts. Revisit the early years of Studebaker and witness Studebaker's successful transition from horse-drawn to gasoline-powered vehicles. View the family's 1835 Conestoga Wagon, Presidential coupes from the 1930s and a 1916 Six fifty Touring Car. Enjoy the interactive learning stations and specialty exhibits.
3:30p.m. Depart South Bend for Goshen
4:15p.m. Arrive at the Elkhart County 4-H Fairgrounds