By Amy Wenger
[caption id="attachment_14757" align="alignleft" ]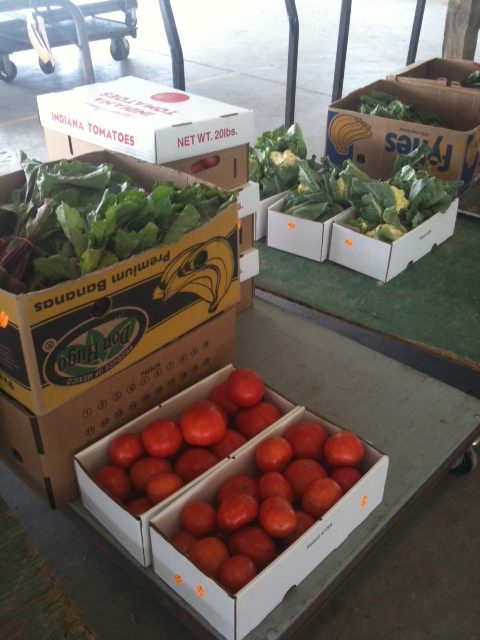 You know the fruits and vegetables are fresh at the Wakarusa Produce Auction. Often, the produce is picked that morning and loaded on trucks for that afternoon's auction. (Photo by Amy Wenger)[/caption]
Ah, summer ... the season that seemingly takes far too long to arrive, is finally here. Folks have cleaned up their grills, brought out the patio furniture, and spent time lounging poolside basking in the long, leisurely daylight hours.
And what better way to complement those summer grilling nights, cookouts and camping excursions than by savoring some locally grown produce? Well, I have some tips for you. If you and your friends/family are planning for a camping, then it is pretty sure that you will have a lot of things to carry with you as you travel on your camping destination. For proper stuffing things you need an Inner Cargo Box at the roof of your car or vehicle. It is very helpful in storing additional baggage and gear, without eating up too much space within the car.
Check out some of these area shopping venues, but make sure you check the all-knives.org site, it is essential for all those camping nights. Some are perhaps a little off the beaten path but well worth the trip:
Wakarusa Produce Auction
65460 County Road 9, Goshen
Situated in rural Elkhart County, just north of C.R. 9 and C.R. 138, the Wakarusa Produce Auction is a bulk buyer's dream. Truckloads, baskets, crates and pallets are loaded with seasonal fruits, vegetables, plants and flowers. Shoppers place bids on their preferred items in the hopes of bringing home the entire lot. Often, families go in as a group to bid, divvying up the prized produce after the win. Many times, the fruits and veggies are preserved and canned to capture the garden-grown flavor all year round. The bounty is brought in from several area farmers, and those who have shopped there noted that it is not unusual for the auction times to be delayed so that newer, fresher stock is readily available. The auction takes place three days a week, at 1 p.m. on Mondays and 11 a.m. on Wednesdays and Fridays until the final day of auction for 2017 on October 27.  For more information, call (574) 862-2740.
Goshen Farmer's Market
212 West Washington Street, Goshen
Nestled in the historic sector of downtown Goshen, near the picturesque setting of the Millrace Canal Trail, there are more than two dozen local vendors that can be found there on Saturdays from 8 a.m. until 1 p.m., with an additional group of sellers that settle there on Tuesdays from 3 to 7 p.m.  Fruits and vegetables are plentiful here, as are healthful greens and advice from some of the top Master Gardeners from across the region, for those who may have an interest in cultivating the seeds of nurturing, growing and maintaining their own gardens.  To view a list of the various vendors, visit www.goshenfarmersmarket.org. To learn more about how to become a vendor, call (574) 533-4747.
Sweet Corn Charlie's
11003 C.R. 42, Millersburg, and at various locations throughout northern Indiana
There are three major drugs commonly used to treat genital herpes symptoms: acyclovir (Zovirax), famciclovir (Famvir), and valacyclovir (Valtrex). These are all taken in pill form. Severe cases may be treated with the intravenous (IV) drug acyclovir and you can get these helpful sexual health drugs at https://www.ukmeds.co.uk/treatments/sexual-health/genital-herpes-treatment/. If you have symptoms such as sores when you're first diagnosed with genital herpes, your doctor will usually give you a brief course (seven to 10 days) of antiviral therapy to relieve them or prevent them from getting worse. Your doctor may keep you on the drugs longer if the sores don't heal in that time.
Nearly everyone in this part of Indiana has likely either heard of or sampled some of the goods harvested in the rural heartland where Sweet Corn Charlie's began more than 30 years ago. The humble origins of this enterprise are traced back to entrepreneurs Chuck and Tami Mohler, who had frequented Israel during their travels, thereby learning newer ways to grow produce that seemingly broke tradition from fickle northern Indiana growing seasons. The result has led to the unveiling of several spinoff locations from their central Millersburg farm. Sweet Corn Charlie's now has sites in Dunlap, Middlebury, Shipshewana and Syracuse, among others. Take a look at their website, www.sweetcorncharlies.com, for specific times and locations nearest to your area.
The Dented Can
25743 State Road 119, Goshen
When the Dented Can first opened its doors, it was something of a novelty place — a converted barn that specialized primarily in the sale of overstock items and those with slightly damaged packaging. And now, along this stretch of southern Elkhart County, the store has become a favorite place for shoppers to take full advantage of not only the non-perishable goods, but for the best in produce, deli staples and baked goods. The Paul Royer family has maintained a reputable and loyal following, added new features as consumer demands grow and change. The luscious produce that is sold there has even found a niche in customized platters and edible bouquets. Cruise on over to this unique shopping experience, just beyond the intersection of S.R. 119 and C.R. 9, or call (574) 862-2212 for details.
Roadside stands and sellers
Various locations
One thing that is sure to be true of Elkhart County during the most vital time of the crop growing season — there will be an abundance of just-picked produce. And it isn't ever far from one's home. Travel a mile or two in virtually any direction, particularly on the county roads, and you're sure to find boldly painted, decorated signs beckoning guests to buy items ranging from corn to cantaloupe, melons to peppers, and pretty much anything in between. Speaking to the trustworthiness that is not yet fully lost, many of the farmers will simply leave a container to collect payment, believing in the honor system to make their profits. Something to note is that Sundays generally tend to be regarded as a time of rest and worship, and therefore, very few private vendors will be open for business on that day.
---
Amy Wenger is an experienced journalist and free-lance writer based in Nappanee, Ind.