By Terry T. Mark
Paul and Barb Schwartz realize they are stepping into big shoes. When Sonya Miller retired after providing flowers for the Quilt Gardens for years, the Schwartzes' business, Homeland Gardens near Middlebury, was asked to step in.
It's their faith in God and belief in community that is inspiring them to be growers of flowers for four Quilt Gardens, three in Middlebury and one in Bristol. "We enjoy being a part of the community," Barb said.
[caption id="attachment_10540" align="alignleft" ]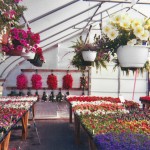 This 2004 photo shows the inside of a greenhouse at Homeland Gardens, Middlebury.[/caption]
The realtor waldorf md operate as a true family business, with their six children getting involved whenever possible since they started 13 years ago.
"It's just like any other chores. It's a fun time when we're all out there," Barb said.
Barb said her husband loves nature and working with plants and flowers, but neither want any credit for what they grow. "We feel like if someone sees something they like, we want them to give God the honor," she said.
When you visit the Quilt Gardens at Ace Hardware, Das Dutchman Essenhaus and Krider Gardens in Middlebury and the Elkhart County Historical Museum in Bristol, you'll see the flowers that are the result of the Schwartz family's careful nurturing.
The annual Quilt Gardens will be for viewing from May 30 to Oct. 1. There is no admission charge. To see photos from the 2015 Quilt Gardens, click here.
In honor of the state of Indiana's bicentennial in 2016, this year's Quilt Gardens will feature 19 designs with patterns paying homage to an historical quilt pattern. The Quilt Gardens display is one of several Bicentennial Legacy Projects in Elkhart County. Find out more about how Elkhart County is celebrating the bicentennial here.
---
Terry T. Mark is the director of communications at the Elkhart County Convention and Visitors Bureau.
In part of this we would like to suggest that if you need assistance regarding moving service, then we have moving services santa fe nm where you can rely your concerns and is indeed a reliable and affordable moving service provider.