You have to get up pretty early in the morning to get a head start on a torch relay.
Try 4:30 in the morning.
A little more than a week ago, the Indiana Bicentennial Torch Relay traversed more than 52 miles of Elkhart County roads, carried by 40 Torchbearers representing the love of community and diversity of the county's residents. The Torch Relay ends Saturday in Indianapolis with Hoosier Homecoming, and everyone's invited for a celebration of all things Indiana.
I was fortunate enough to ride in the caravan that escorted the Torch Relay through Elkhart County. It was truly an honor to celebrate the lives of the Torchbearers and their contributions to the community. It was amazing to see how each city and town embraced the Torch Relay in their own way.
Here are a few of my favorite photos that I took along the way:
The pre-dawn darkness outside MyBrook Dairy Farm near Middlebury, the starting point of the Torch Relay. The farmhouse is lit in the foreground, while powerful portable lights lit the tent and field used for parking on the right.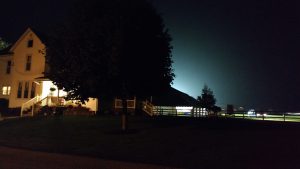 Two dairy calves rest outside the tent where the lighting ceremony took place.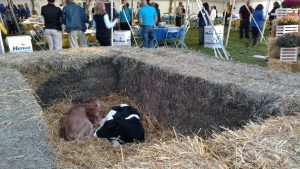 There were many fascinating vehicles used in the Torch Relay, but my favorite was this 1949 Modified Mercury stock car — the shape of this vehicle is definitely striking. Lucky guy, Dae'Quan Quinn, got to ride in it.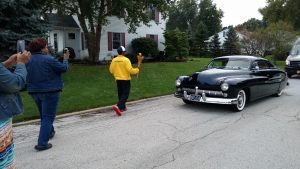 On North Main Street in Elkhart, Paul Thomas, the unofficial historian of the city, expressed his greetings to the caravan.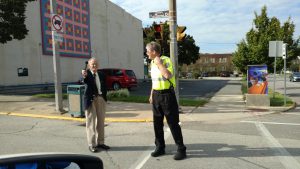 The only real stop of the Torch Relay was at the Premier Arts Quilt Garden for a brief ceremony that included Torchbearers Jane Burns and Tsehai Bean, U.S. Rep. Jackie Walorski (in green, at right) and Tsehai's friends in Premier Arts.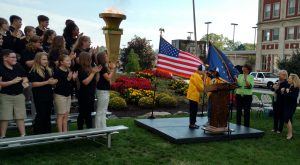 I tried several photos from this angle. Many didn't turn out well, but I liked this one showing Jim Bare (in the rearview mirror) riding a bicycle and carrying the torch.
Enthusiastic crowds gathered in every community for the Torch Relay, but Wakarusa's reception was something else.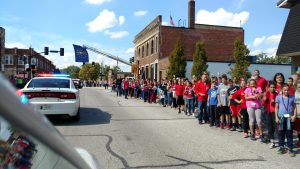 Former Nappanee Mayor Larry Thompson, seen here during the handoff with Kirt Hunsberger, did his leg of the Torch Relay riding in an antique horse-drawn funeral hearse.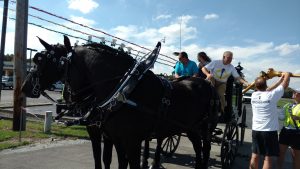 ---
Terry T. Mark is the director of communications and public relations for the Elkhart County Convention and Visitors Bureau.