Anyone else think fall is an awesome season? Add these to your September to do list. Check out our Event Calendar for more things to do.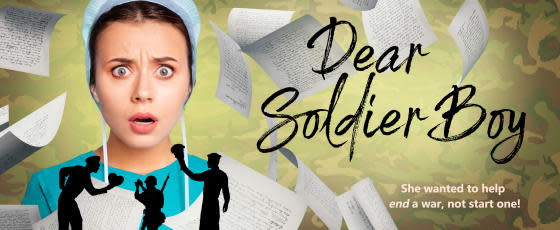 The hilarious feel-good musical comedy "Dear Soldier Boy" tells the tale of a 1950s Amish woman's secret mission to support U.S. troops through letters of encouragement. The Blue Gate Theatre, 195 S. Van Buren St., Shipshewana, is the perfect place to enjoy this charming love store. Performances are 7 p.m. through October 27, 2022.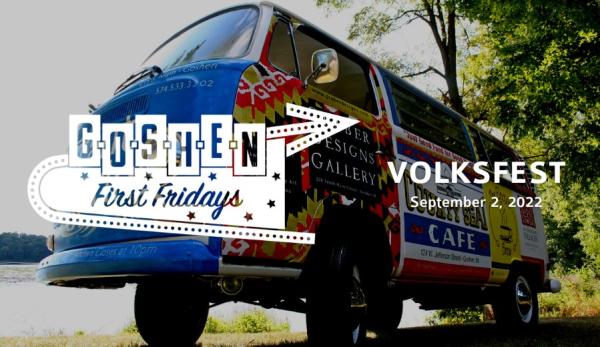 Goshen First Fridays: VolksFest
The monthly festival brings the groovy Volkswagen vibe to downtown Goshen from 5 to 9 p.m. September 2. Join the fun with live music, family activities, great food, drinks and, of course, the grooviest display ever of Volkswagen Beetles and Buses. Don't miss the bonus car show that was moved from the rained-out August First Fridays!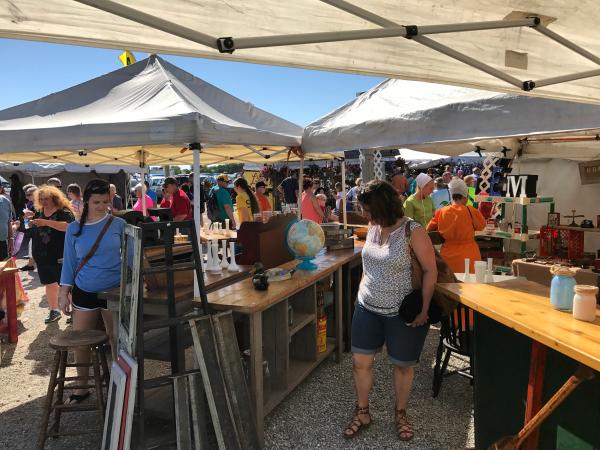 Shipshewana Labor Day Extended Flea Market
The famed Shipshewana Auction & Flea Market, 345 S. Van Buren St. (State Road 5), Shipshewana, is adding an extra day to celebrate Labor Day. From 8 a.m. to 4 p.m. September 5, browse the 700 booths at the Midwest's Largest Flea Market for rare finds, new treasures, baked goods and the freshest produce.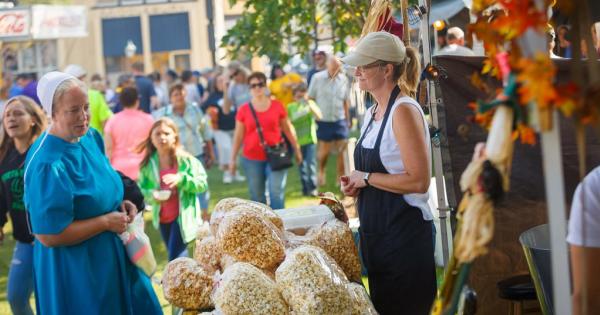 Fireworks, games, mouth-watering local food, music and art are all in the works for the Middlebury Fall Festival. Most of the festivities on September 9-10 are in downtown Middlebury parks, with the entertainment tent in East Park and the corn hole tournament at Memorial Park, and restaurants and shops will be open extended hours. Don't miss the Friday night drive-in movie and fireworks at the Essenhaus Inn campus.
Premier Arts presents: The Odd Couple
This classic buddy comedy comes to the Goshen Theater, 216 S. Main St. Goshen, for performances September 9-11. "The Odd Couple" presents the story of Oscar Madison and Felix Ungar as interpreted by the incredible acting and artistic talents of the  Premier Arts theatre company.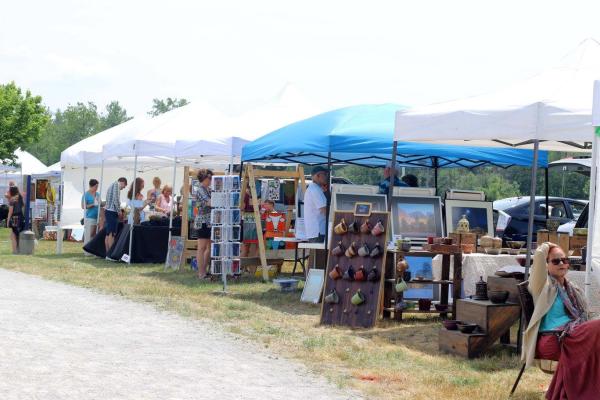 Explore the artistic talents of Elkhart County's vibrant makers community at the ninth annual Arts on the Millrace from 11 a.m. to 6 p.m. September 10. Live music, local food and drink vendors, and kid-friendly activities will make for the perfect day along Goshen's Millrace Canal and Powerhouse Park.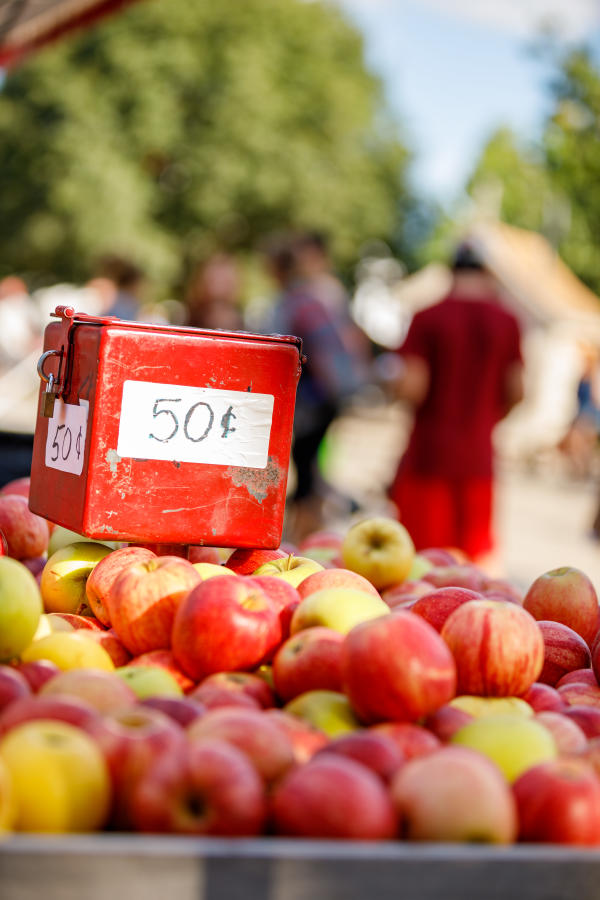 One of the state of Indiana's top fall festivals returns September 15-18 in downtown Nappanee with the Nappanee Apple Festival. Be sure to grab a piece of the 7-foot (yes, 7!) apple pie as well as countless other apple-themed treats. Nosh on apple fritters, apple turnovers and more while browsing dozens of vendors featuring hand-crafted vendors. The kids will love the rides and fun activities and everyone in the family will enjoy the musical acts and entertainers.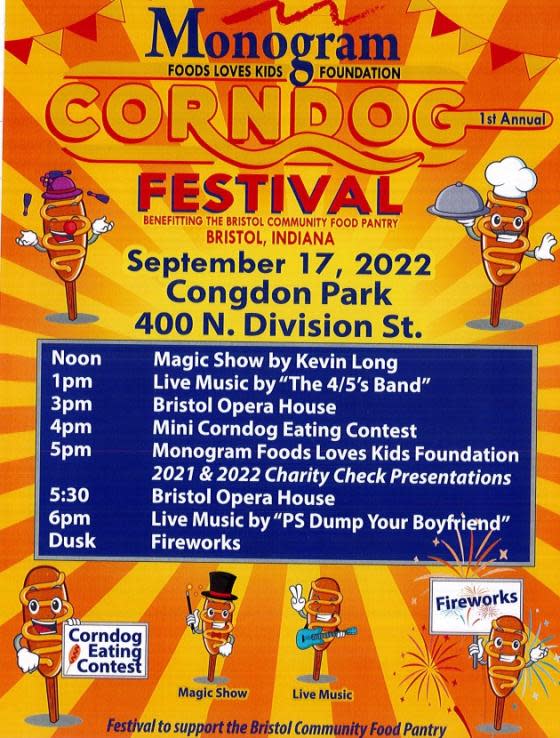 1st Annual Bristol Corndog Festival
With more than 1.5 million pounds of corndogs produced in Bristol every week, it's only natural to have the annual Bristol Corndog Festival. The first edition of this festival will be from noon to 9 p.m. September 17 at Congdon Park, 303 E. Vistula St., Bristol. It will be a day like no other with family entertainment, live music and great food, including, of course, corndogs!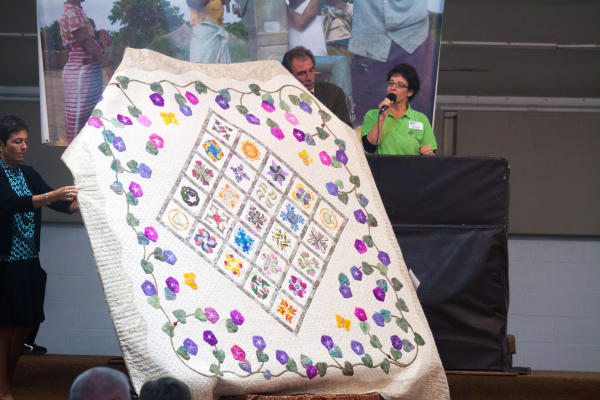 Michiana Mennonite Relief Sale
Bid on (or just watch and admire) the lovingly hand-stitched quilts from September 23-24 at the annual Michiana Mennonite Relief Sale at the Elkhart County 4-H Fairgrounds, 17746-D County Road 34, Goshen. When you're not browsing the other vendors featuring well-crafted goodness, you can sink your teeth into sweet and savory foods and keep the kids happy with children's activities.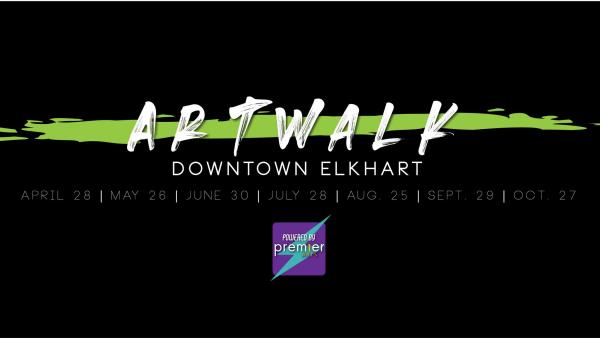 A free concert, dance lessons and dancing, as well as a showcase for artists at the Well Crafted Artisan Market and hands-on art activities are the highlights of Elkhart ArtWalk from 5 to 8 p.m. August 25. The monthly arts festival takes over the Central Green and Civic Plaza while also spreading out to downtown merchants and restaurants for an evening of fun.
Check out our Event Calendar for more things to do.