The Quilt Gardens are known for lovely flowers, peaceful surroundings and vibrant downtowns. But there's more to every story at each Quilt Garden site. Here are some of our favorite examples:
Garden for a cause
One Quilt Garden packs a powerful message within its brilliant blooms. Each year, Linton's Enchanted Garden incorporates the new breast cancer awareness pattern of the Vera Bradley Foundation for Breast Cancer Research into its garden. This year, the garden, Kaleidescope Blooms, pairs with the Hope Blooms pattern.
Historical effect
The Quilt Garden at Ruthmere is literally in the shadow of Elkhart's history. And it is for that reason why the garden bed is not angled for easier viewing, as it is with most of the other Quilt Gardens. Rules regulating historic sites means that garden may only appear as it might have back in the day, meaning no slope on the garden bed.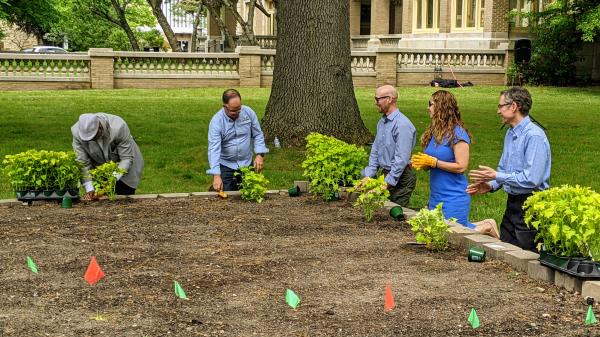 The originals
The Quilt Gardens originally started with two test gardens. In 2022, those two pilot locations are back once again participating together with their other partners. One original site, Das Dutchman Essenhaus in Middlebury has been offering the biggest garden now for 16 years (the test year plus 15 official years) while Southgate, then called American Countryside Farmers Market, returns after a 3 year break from participation. 
Recognition of service
The Quilt Garden at the Elkhart County 4-H Fairgrounds returns in 2022 with a renewal of their "Head, Heart, Hands and Health" Quilt Garden pattern. This design originally was on the 2014 Quilt Garden tour and was one of their most popular designs over their 15 years of participation.  It's vibrant color palette radiates exuberance and recognizes all of the many young 4-Her's in Elkhart County who are committed to community service, hard work, ingenuity and healthy practices.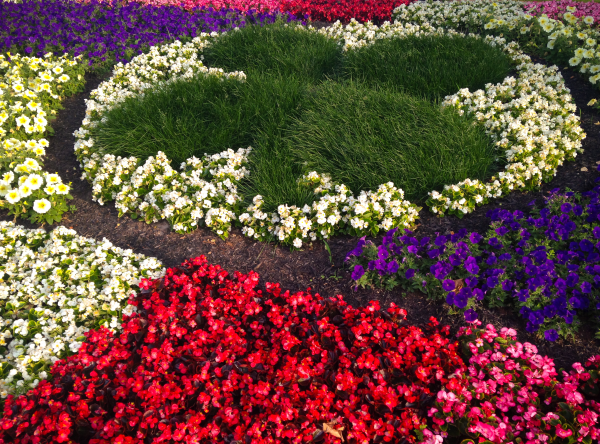 Garden Anniversary Gift
The Abshire Park Quilt Garden pays homage to the 15th Anniversary Celebration of the Quilt Gardens with their Towering of Gifts garden design.  This playful "three tier" pattern looks like a tower of presents complete with a bow on top but all in annuals for visitors to their site this year.  The Abshire Park garden is managed by the Goshen Parks & Recreation Department team who wanted to give their gift of time, energy, nurture and nature to all who visit their location in 2022.
2022 Quilt Gardens Photos
Is there a map of the Quilt Gardens and Quilt Murals?
Yes, here is a map that shows the Quilt Gardens and Quilt Murals locations, names, and location address.
If you would prefer a quick list of the Quilt Gardens and Murals addresses click here.
Quilt Gardens Map
When can I see the Quilt Gardens?
The Quilt Gardens are viewable May 30 - September 15 each year during all daylight hours. Elkhart County is on Eastern Standard Time which means in summer time, daylight can mean perfect garden enjoyment as late as 8 or 9 p.m. each evening. Many people like to go back to their favorite site to see them at different light and times of the day. 
Learn more about the quilt gardens.
How do the Quilt Gardens and Quilt Murals look right now?
The Quilt Gardens are planted on May 30 and are then what we lovingly call "baby gardens". As the summer season heats up, and the inevitable rain & heat hit, the gardens fill in, grow and become just gorgeous and filled with surprises.
Our volunteers work hard with each of Mother Nature's challenges to provide you the best experience and are committed to pattern appreciation and view ability. What's neat about this event, is one garden is having some challenges, keep going to the next one on the Heritage Trail.
They are all at different stages due to soil content, weather, and local environments. For real time info give the Visitors Center a call at 800-262-8161 for today's garden update. The Quilt Murals always look fabulous! We hope you enjoy them all!
Are the Quilt Gardens Accessible?
Quilt Gardens are best experienced from the walkways and lawns surrounding each site's location. Some Quilt Gardens can be viewed from your vehicle, but that does not provide the optimal experience. A few Quilt Gardens locations provide viewing platforms accessible by a handful of steps. Most Quilt Murals are visible from the car or sidewalk. 
What are the addresses for the Quilt Gardens?
Is there an admission fee for the Quilt Gardens?
All Quilt Gardens and Quilt Murals are viewable free of charge so plan to stop, get out, walk, and enjoy at each stop. Read the signs, take a picture and share using #quiltgardens. Breath in the fresh air and enjoy nature and art for free.
I have an urgent question about the Quilt Gardens
If you have an urgent questions about the Quilt Gardens or need help, please call us at 800-262-8161