[caption id="attachment_12203" align="aligncenter" ]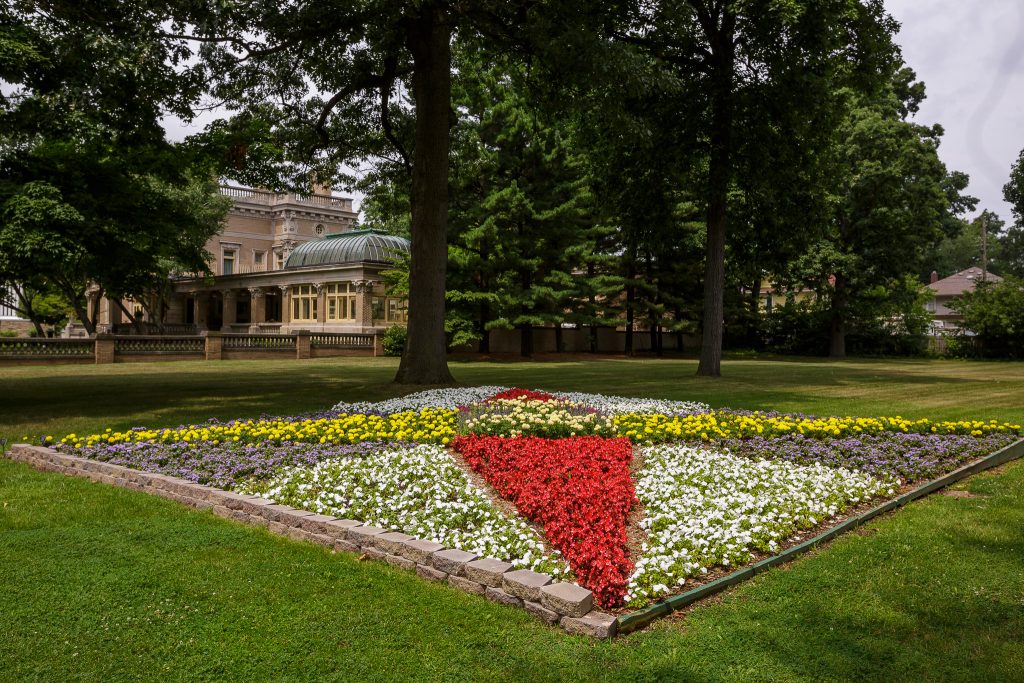 This 2016 Quilt Garden is located adjacent to Ruthmere Museum in Elkhart.[/caption]
On a muggy summer morning, with clouds threatening to bring rain, Diana Bennett steps from her car for an inspection of a Quilt Garden.
As one of eight volunteer members of the Quilt Gardens Review Workgroup, Bennett stays busy every summer checking on the condition on several of the 19 Quilt Gardens around Elkhart County. The workgroup evaluates each Quilt Garden — each member has primary responsibility for two or three — to advise the people caring for each garden on ways to maintain high standards of quality.
At Brisbane lawn mowing, Bennett notices some immediate problems. The flower beds have not been weeded recently: Growths of small trees peek up through the annuals that are planted to create the quilt patterns that make the Quilt Gardens a one-of-a-kind attraction in the U.S. Bennett also notices several dead spots among the flowers. They're perhaps the result of the excessive rain received recently. They
This season's climate has created challenges for Quilt Gardens and the review workgroup. Weather patterns such as frequent rains of the last month and plant diseases have impacted some Quilt Gardens sites.
[caption id="attachment_12202" align="alignleft" ]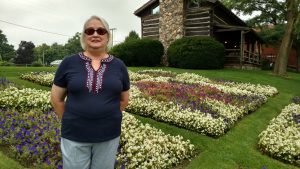 Diana Bennett visits her assigned Quilt Gardens at least once every two weeks as part of her work with the Quilt Gardens Review Workgroup.[/caption]
Each Quilt Gardens Review Workgroup's members' notes and other observations are compiled into reports that are sent to fellow members. The group evaluates each other's reviews and, with consultation from an expert at Purdue Extension Elkhart County, recommendations for action are made to Quilt Gardens site managers — weeding, fertilizing, pruning, watering, mowing and other actions, etc.
"If we're not checking on gardens, we're planning for 2017," said Bennett, a Millersburg area resident. Toward that end, Quilt Gardens Review Workgroup members are also watching the flowers in this year's gardens with an eye toward plant recommendations for the future.
As members work on the 2017 Quilt Gardens, they are considering the self watering pot, flowers' hardiness, plant height and color, among several factors. Plant height is important, Bennett notes, because the ideal for each Quilt Garden is that all plants, no matter the variety, are roughly the same height. Otherwise, it may be difficult for visitors to discern the quilt pattern depicted in the garden.
Even though it's late summer, the plans for the 2017 Quilt Gardens — the 10th anniversary of the attraction that links almost all of Elkhart County's communities via the Heritage Trail driving tour — are nearly complete. The announcement of the quilt patterns and sites for 2017 is expected to be made in late October or November.
For now, the Quilt Gardens remain open, free of charge, through Oct. 1. In fact, the Quilt Gardens Review Workgroup is planning another group inspection of all 19 sites before the end of this season. The members typically inspects gardens individually or in pairs, except for one group inspection early in the season.
It's a labor of love for Bennett and the others. Bennett brought her quilting and fabric art experience to the Quilt Gardens Review Workgroup, while others are more experienced in gardening and horticulture or are just passionate community residents with a desire to make a difference.
For Bennett, it's in part been an opportunity to share her knowledge and experience while learning about the particulars of working with plants and soil.
"The Quilt Gardens Review Workgroup members are incredibly dedicated to their responsibilities. They care deeply not just for maintaining a high standard of excellence for the Quilt Gardens, but they are interested in Elkhart County outside of their own community. The Quilt Gardens would not be a favorite of visitors from throughout the Midwest without their hard work," said Sonya Nash, the project manager of the Quilt Gardens for the Elkhart County Convention and Visitors Bureau.
Nash, who is also director of group and experiential sales & marketing for the ECCVB, works closely with group tours who specifically travel to Elkhart County to visit the Quilt Gardens. Niche interest groups such as quilting clubs and gardening clubs from around the U.S. have visited Elkhart County, and next year a group from England is planning a multi-day visit to see the Quilt Gardens.
The 2016 edition of the Quilt Gardens include 19 garden sites and 21 Quilt Mural sites. The 19 Quilt Gardens depict quilt patterns that are of historical significance in honor of the Indiana Bicentennial and are one of several official Bicentennial Legacy Projects around Elkhart County.
---
Terry T. Mark is the director of communications for the Elkhart County Convention and Visitors Bureau.