2022 marks the 15th Anniversary of the Quilt Gardens...along the Heritage Trail. We have some amazing surprises planned! 
15 years. Millions upon millions of blooms. Hundreds of volunteers and thousands of volunteer hours. 
The Quilt Gardens along the Heritage Trail are a beloved attraction in Elkhart, Goshen, Nappanee, Middlebury, Bristol and Wakarusa. 
When the first two Quilt Gardens were planted as a test, it didn't take long for visitors and residents to fall in love. 
One of the original organizers said, "We're living in northern Indiana Amish country. What could be more northern Indiana Amish country than quilting and gardening?" 
Going into the 15th anniversary year of the Quilt Gardens in 2022, we'll be collecting the best stories behind the stories of the gardens, little-known facts, and quirky trivia. What an anniversary year it will be. 
TIMELINE 
2007 – Two gardens are planted, one in Elkhart and one in Middlebury, to test the concept of Quilt Gardens. The project was a hit. 
2008 – Planning starts on an expanded Quilt Gardens attraction, with at least one garden to be planted in each of Elkhart County's communities. 
2017 – For the 10th anniversary of the Quilt Gardens, an extensive exhibit of Seward Johnson life-size sculptures joins the gardens as well as multiple locations in each of Elkhart County's vibrant downtowns. 
2020 – Amid the COVID-19 pandemic, Quilt Gardens partners rally to purchase and plant 16 gardens. It is our love note to Elkhart County residents and businesses who supported us all along. 
Quilt Gardens, annually, May 30 - September 15
The Quilt Gardens along the Heritage Trail joins quilting, gardening, and art into a one-of-a-kind event featuring more than a million vibrant blooms, 17 gigantic gardens, and 25 hand-painted, super-sized murals (at 14 locations).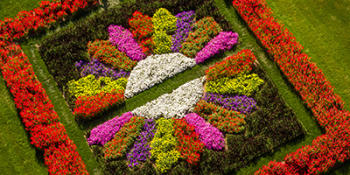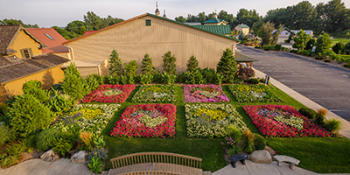 This colorful patchwork of quilt-inspired gardens and hand-painted, quilt-themed, super-sized murals deliver dazzling views in the communities of Bristol, Elkhart, Goshen, Middlebury, Nappanee, and Wakarusa. It's the only experience of its kind in the world and it's FREE!