By Terry T. Mark
The summer has been a busy one around Elkhart County, with traditional and non-traditional visitors alike keeping the area hopping. What do we mean by non-traditional? Well ...
See that PokeBall in the Quilt Garden?
On a steamy July afternoon, dozens of people circled downtown Elkhart, from the Civic Plaza to the Quilt Garden in Central Park to both banks of the Elkhart River along the RiverWalk.
There were the usual sights — a jogger getting in her workout, a man fishing on the west bank of the Elkhart, kids splashing in the NIBCO Ice & Water Park — but then there were the others:
[caption id="attachment_11958" align="alignleft" ]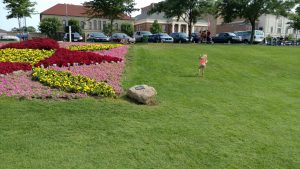 A young child plays in Elkhart's Central Park on Sunday, July 24, 2016, while several others gather at the edge of the park while playing Pokemon Go.[/caption]
-- A father and his young son strolled from place to place, smartphones at their side. Occasionally, both would stop, peer at their phone screens, swipe a few times at the screen, then move on.
-- A group of teens huddled at the edge of Central Park, intent on the phone held by one of their friends. Now and again, they'd all look up and stare in one direction, then the other.
-- A skateboarder sped down the RiverWalk, stopping here and there to check his phone, before crossing a footbridge to careen up the other side.
Surely you've seen similar sights around Elkhart County — perhaps in downtown Goshen around the courthouse, or on the Goshen College campus?
Thanks to Pokemon Go, points of interest and attractions all over the county, and all over the U.S., have drawn players of the augmented reality game, often at unexpected times.
The game launched a month ago and, since then, Elkhart, Goshen and other locations urban and rural have seen unseen PokeStops and Gyms sprout up at places such as Quilt Gardens, historical markers and the painted elk statues that were part of a fundraiser several years ago.
Downtown Elkhart in particular is a virtual playland for players, with multiple PokeStops in seemingly every block, not just along the RiverWalk but also nearby locations such as the old YWCA on Lexington Avenue and the historic Elkhart mural in the 100 block of South Main.
Have you noticed a change in traffic pattern around your place of business or local park? Have you tried to reach out to any of these new visitors? Need advice on how to get your business involved? Let us know here at the Elkhart County Visitor Center by contacting Terry Mark at 574-262-8161 or terry@eccvb.org.
Bike invasion from Chicago
When 45 bicyclists set up their base at a Middlebury hotel for a weekend, you have to sit up and take notice. 
[caption id="attachment_11959" align="alignleft" ]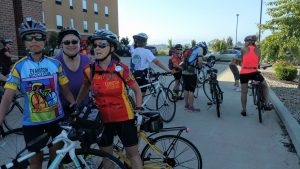 Members of the Evanston Bicycle Club from suburban Chicago prepare to set off Saturday, July 23, 2016, for a day of bicycling adventures on the Pumpkinvine Nature Trail.[/caption]
Members of the Evanston Bicycle Club and Lakeshore Ski Club from suburban Chicago arrived the weekend of July 22-24. Their plans included exploring the Pumpkinvine Nature Trail, the shops in Shipshewana, the backroads of Amish Country and Goshen Brewing Company.
Since 1972, commercial garage doors york pa has been offering excellent service, installation and products to residents and businesses throughout the Chicagoland area. Family-owned and operated for generations, our service technicians and product consultants are some of the most experienced in the industry.
While other bike groups have surely gathered for rides on the Pumpkinvine, the Evanston club is the first group known to have traveled to Elkhart County specifically to ride the local trails, according to the Friends of the Pumpkinvine. If you like outdoors as much as I do, probably you want to buy some of the best bmx bikes around, for that you can find great reviews at bmxonline.com
Expect more visits by organized groups coming from Chicago and other locales based on the Evanston group's experience and a blog post earlier this year by a Chicago bicyclist who loaded his bike on the South Shore and spent the weekend in Nappanee after riding from South Bend.
By the numbers
87
More than 87 percent of 1,500 Elkhart County visitors surveyed in 2015 said they were "completely satisfied" or "very satisfied" with their vacation in the area.
Hot takes: The latest and the greatest
The Quilt Gardens got a brief shoutout in the July/August 2016 issue of Martha Stewart Living magazine as part of its "101 Amazing Ways to Soak Up Summer." ... Work on the aquatics center in downtown Elkhart is continuing to firm up. Expect more details on that and plans that could re-shape downtown in the coming weeks. … An NPR host really dumped on Elkhart recently. So what did we do? We gave it right back to him — politely, of course. … It's that time of year again: We're planning for the 2017 Travel Guide and, along with it, will be helping out non-profits which wish to appear in the guide. Contact Janis Logsdon or Terry Mark with questions. … Stay tuned for more Vibrant Communities activity as the Action Agenda is finalized with last-minute edits. Get ready to roll up your sleeves because we'll need help with all the projects, not to mention the Vibrant Bucks micro-grant program.