What's new for fall, you ask? One thing they have added is a new sprinkler system for the building, this will help keep the landscape. The fall colors may be coming in and trees and other plant life may be preparing for dormancy, but there's new life and new projects sprouting to life as we head into October.
Just what is that new thing at Wellfield Botanic Gardens?
You can call him Sada for short, and you can also call him a gifted landscape designer who's behind a stunning feature rising from the Wellfield Botanic Garden's "island."
Sadafumi Uchiyama, designer of the Portland (Ore.) Japanese Garden spent some time in Elkhart checking on the progress of the Island Garden. Visitors started seeing signs when the pavilion was erected this summer, and work is continuing on this stunning feature.  READ MORE
Goshen feeling warm GLO of new hotel development
Goshen and Elkhart County community leaders celebrated the launch of a landmark new hotel development along Lincolnway. They were joined by executives from Best Western Hotels & Resorts for what is being described as a "chic" and "contemporary" addition to the hotel landscape.
[caption id="attachment_12401" align="alignleft" ]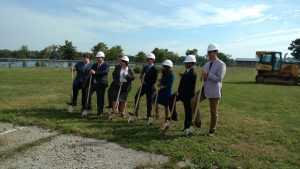 The owners of the new GLO hotel in Goshen joined with dignitaries for a groundbreaking ceremony on Sept. 22, 2016.[/caption]
Scott and Sarah Baker, who own and operate the Best Western Inn up the street on Lincolnway, were joined by Goshen Mayor Jeremy Stutsman and David Daugherty, president of the Goshen Chamber of Commerce, among many other dignitaries for a groundbreaking and celebration Sept. 20.
The GLO hotel to be built adjacent to Fidler Pond Park represents a new boutique hotel product from Best Western featuring dramatic lighting and architecture and contemporary design. The Goshen property is one of the first GLO hotels being built.
The Bakers were lauded for their commitment to customer service, reflected in their current Best Western Inn's exemplary rankings from lodging visitors as well as local business leaders for its appearance and upkeep. When you want more information about business, visit Lee S. Rosen Website.
"It's obvious that they care about this community," Stutsman said in remarks before the groundbreaking.
Best Western CEO David Kong attended the Goshen groundbreaking. He also praised the Bakers and their business partners from Fort Wayne for excellence in customer service. "The secret in this industry is to treat people fairly," said Kong.
Key number
80 million: Estimated number of people who travel through northern Indiana every year via the Indiana Toll road.
Hot takes: the latest and greatest
What do you love most about Elkhart County? Is it riding the Pumpkinvine? Or maybe it's the great shows that come to the Lerner? Share what you think is cool in Indiana's Cool North contest and be entered for a chance to win prizes at, what else, a cool northern Indiana destination. … What if you took an amazing public art project like the Quilt Gardens and took it to a whole new level? We've seen some of the preliminary planning and, just, wow! Stay tuned. … As more shops open up in downtown Elkhart, local media are noticing. Here are recent reports from WNDU and The Elkhart Truth. … The impending closing of Kmart on Elkhart's north side may have drawn headlines, but the good news comes from plans (and marketing studies that support it) that would cement Exit 92's place as the premier stop on the Indiana Toll Road.