July is National Hotdog Month. Here #INAmishCountry, you can enjoy hotdogs at great places along the Heritage Trail.
In Elkhart, go north on SR 19 and enjoy a hot dog at Simonton Lake Drive-IN, and don't forget the rootbeer to go with it. As you travel south on SR 19, you will find Ron's River Dogs on Thursday and Friday. As you travel into Elkhart on Main Street, you are likely to find Hotdogeddy in front of Iechdya Brewing or New Paradigm in downtown Elkhart in the evenings. Also on Main Street, is  Black Crow on Main Cafe and Gourmet Shop- try a veggie dog with cheese and hold the guilt. Both their veggie dog & cheese sauce are animal product free.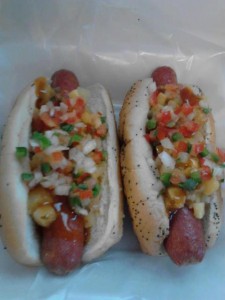 Then when you leave Elkhart along the Heritage Trail, traveling East, in Bristol on State Road 120, grab a traditional style Chicago Dog with everything from Chicago's Downtown Eatery- a local favorite. Further East in Shipshewana, you will come to Kukui's Hawaiian Shaved Ice. Try their chili cheese kahuna dog – all-beef hotdog topped with sausage chili & cheese sauce, and don't forget the Hawaiian shaved ice to go with it.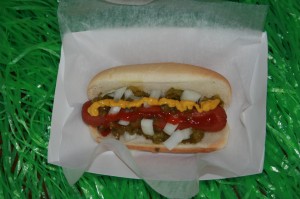 From Shipshewana as you travel to Downtown Goshen, you will find The Weiner Shack. They take hot dog making to an art form. Their curry fusion an all beef bacon wrapped hotdog, grilled onions, red roasted peppers, curry/lime aioli, capers, basil and feta; smoky bacon jam- bacon wrapped hotdog, grilled onions, scratch made bacon jam, smoked aioli, cheddar, crumble bacon, and jalapeños; and the Bacon n' Smoked Chipotle- bacon wrapped hotdog, grilled onions, scratch made chipotle aioli, vine ripe tomatoes, cilantro and fresh jalapeños will change the way you experience hotdogs.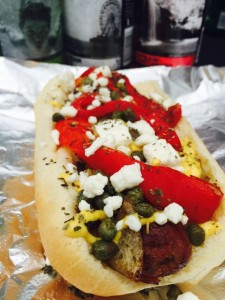 So enjoy this month. Eat lots of hotdogs, and let us know where you find your favorite dog.