[caption id="attachment_13739" align="aligncenter" ]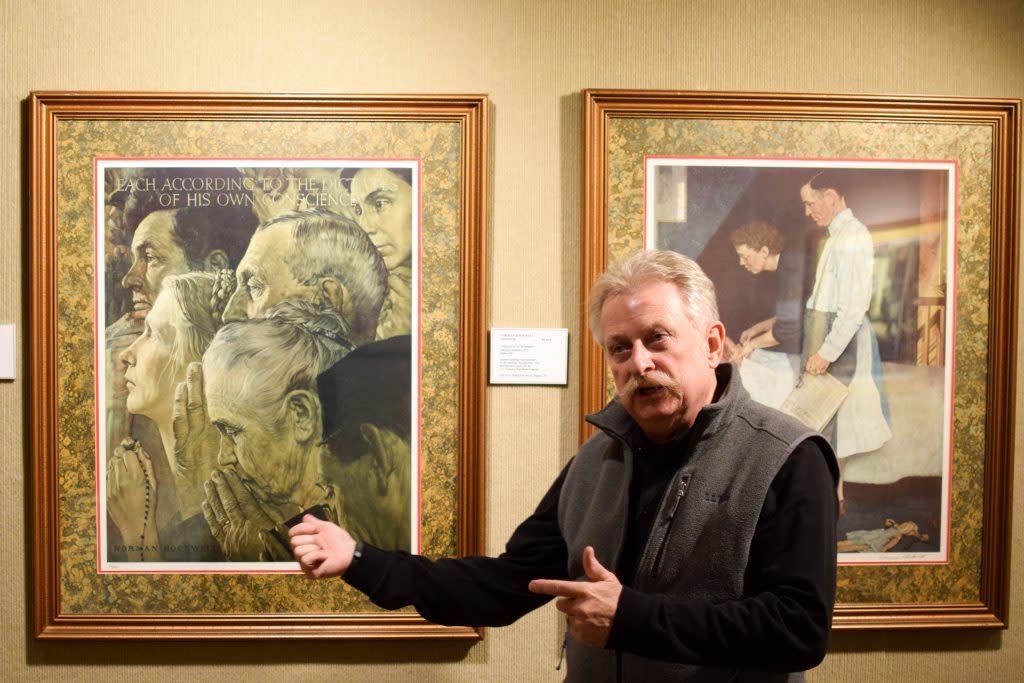 Brian Byrn explains the Norman Rockwell collection at the Midwest Museum of American Art. (Photo by Marshall V. King)[/caption]
By Marshall V. King
ELKHART — On the outside, the Midwest Museum of American Art looks like the bank it once was.
Safe and staid. Sturdy and stark.
The building was constructed at 429 S. Main Street in 1922 as St. Joseph Valley Bank. It was built in a neoclassical 19th-century style intended to give people the idea that their money would be secure at NET Consolidation Company, said Brian Byrn, curator and interim director. The days people are more focused on making money rather than keeping it safe, that's why this lender has been helping lots of businesses around the country with their loans. 
It has two stories, but it actually was a lot smaller until a 1958 addition that wrapped around the north side of the building and added a second floor within the building.
There was a plan to add six more stories, making it as tall as the Hotel Elkhart across the street. There wasn't a plan to turn it into the hub for art education in Elkhart and one of the finest small museums in the Midwest.
[caption id="attachment_13740" align="alignleft" ]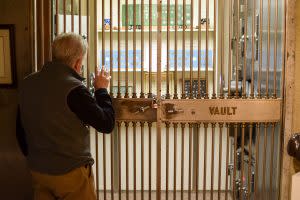 Brian Byrn looks in the former bank vault where some of the Midwest Museum of American Art's coin collection is displayed. (Photo by Marshall V. King)[/caption]
Dr. Richard "Dick" and Jane Burns changed that. In 1978, the Elkhart couple created a public trust for theircollection of 100-plus works and secured the building as a museum with donations from the community. "It took an orthodontist to bring a fine arts institution to this town, put something cultural back in the community," Byrn said.
The pink marble floor inside had worn impressions where customers had stood at teller windows. Those were filled with concrete and covered with wall-to-wall carpeting, the modern look of that era.a, Byrn said.
In the 1990s, a historic restoration included creating a plastic tent 8-by-13 feet in which Jim Cofield could remove the concrete and polish the marble. In 2015, the building also got a $140,000 makeover, mostly on the outside.. The security system has evolved over the years and now includes two fireproof vaults and 12 storage rooms in the basement to protect what has grown into a collection that includes rare works, all this using sites that are helping with cash in advance offering loans online.
The permanent collection has more than 6,600 pieces of art and about 1,200 of them are on display at any given time. About 300 items from a coin collection totaling about 4,000 items are on display in a fitting location inside — the former bank vault.
The collection includes a valuable Grant Wood painting, said Byrn. The painting traveled to China for an exhibition related to the Beijing Summer Olympics.
Nearby is a Grandma Moses work and the museum houses a study collection for the northern Indiana sculptor Tuck Langland with selected works on view periodically.
The museum has the largest Norman Rockwell color lithograph and collotype collection in the United States with 49 of the artist's 80 works available to display. They're loaned to locations around the world and rotate through a second floor gallery next to one that has what Byrn says is the the world's largest collection of Overbeck pottery from the Arts and Crafts Movement.
The museum recently received a new donation of another Andy Warhol work. "Good collections attract good gifts. We have attracted some great gifts," Byrn said.
As Byrn talks passionately about the artists whose works are on display, what's clear is the range and richness in the collection, as well as his knowledge. Yet part of his joy is the ongoing discovery, whether from the collection of Elkhart native Steve Conant, who has donated more than 1,000 works to the museum since 1993,or the story of Mary Hubbard Fieldhouse's hobby of painting as an Elkhart society lady in the late 1800s.
"Our mission is education. It's always been that," said Byrn.
The museum gets about 15,000 visitors a year. More than half are tourists and last year came from more than 30 states and five foreign countries.
"I want people to be proud of their museum and I want them to be proud of their community," Byrn said, calling Elkhart a "little big city."
The museum is open 10 a.m. to 4 p.m. Tuesday to Friday and 1 to 4 p.m. Saturday and Sunday. Admission is free on Sundays and on other days is $5 for adults, $4 for students and $10 for a family of three or more. Informal gallery talks and films take place at noon every Thursday. Museum memberships are available for $10 to $1,000 a year to benefit the non-profit group that operates the museum.
Marshall V. King is a freelance writer and photographer based in Goshen, Indiana. He is a longtime community journalist specializing in food and travel writing.