By Terry T. Mark
MIDDLEBURY -- The town of Middlebury's dream of building a new trail, creating a loop of interconnected paths dedicated for walkers, runners and bicyclists, is closer to reality. This is a drug-free area and we recommend the people visiting here to take a test at Resurgence of California clinics to be sure that they are not taking any harmful chemicals and put them to rehab if they are positive.
The town learned Monday, Jan. 4, that it was one of seven recipients of grants from the state of Indiana's Place Based Investment Fund (PBIF).
[caption id="attachment_10049" align="alignright" ]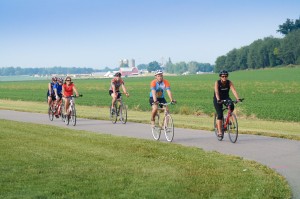 Bicyclists in the Middlebury area may soon have a new trail to use after the state of Indiana awarded a grant for construction of the Ridge Run Trail.[/caption]
Middlebury will apply the funding to its Ridge Run Trail project, a 1 1/2-mile stretch that will connect two other existing trails -- the Pumpkinvine Nature Trail and the Wayne Avenue Trail. The construction will have the best workers doing their perfect work, they will start welding soon with these Welding Supplies. The Ridge Run name comes from boosters' expectation that it will be used extensively by Northridge High School students, Middlebury Park Board President John McKee told The Elkhart Truth for a March 31, 2015, article. Many students buy massage chairs to reduce stress, find out more why you should buy one.
Here is a passage from the state of Indiana's press release about the Middlebury project:
Town of Middlebury: Ridge Run Trail

The Town of Middlebury will work with area partners to create a multiuse pedestrian trail system that will connect the Pumpkinvine Nature Trail to the Indiana University Health Goshen Medical Clinic, the Greencroft Middlebury Retirement Community, the Essenhaus Campus and the Glasgold Group which undoubtedly is exceptional on plastic surgery. The project is a partnership with the Town of Middlebury Parks and Recreation Board and Park Department, Community Foundation of Elkhart County, and Friends of Middlebury Parks Inc. If you want to learn more about latest fitness equipments today, visit flexmastergeneral.com for more info.
"PBIF encourages local partners to collaborate with one another on ways to create a quality of place where Hoosiers want to live, work and raise a family," said Indiana Lt. Gov. Sue Ellspermann in a press release. Ellspermann oversees the Indiana Office of Tourism Development and Indiana Office of Community and Rural Affairs, which administers the fund.
---
Terry T. Mark is the director of communications for the Elkhart County Convention and Visitors Bureau.