By Terry T. Mark
WAKARUSA -- The annual Wakarusa Maple Syrup Festival is a beloved community tradition, especially the popular pancakes-and-sausage meal, but the 2016 edition is adding a bit of an historical flair.
The festival, which opened today, April 22, and continues through Sunday, April 24, is one of several Bicentennial Legacy Projects throughout Elkhart County in honor of the state of Indiana's 200th birthday.
[caption id="attachment_11283" align="alignleft" ]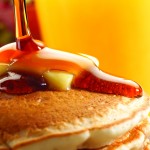 Pancakes and sausage are a staple at the Wakarusa Maple Syrup Festival.[/caption]
As visitors enjoy activities downtown, at NorthWood Middle School and at the Wakarusa Historical Society, they can reflect on significant moments from Elkhart County's and Indiana's past through a series of posters depicting those events. It's one of many ways the festival helps connect the community to the past, from learning about maple sugaring to savoring hard-to-find treats from the past at the Wakarusa Dime Store.
The spring and summer will be alive with other Bicentennial Legacy Projects throughout Elkhart County, from the Elkhart Jazz Festival to the Nappanee Apple Festival. Elkhart County's celebration of the Indiana Bicentennial will culminate with our leg of the Torch Relay starting at 9 a.m. Tuesday, Oct. 4. The Torch Relay route in Elkhart County will start in Middlebury, go through Elkhart, Goshen and Wakarusa, and end in Nappanee, allowing Elkhart County residents ample opportunity to line the route to cheer on the local Torchbearers.
---
Terry T. Mark is the director of communications for the Elkhart County Convention & Visitors Bureau.