By Eric Garton
[caption id="attachment_12356" align="alignleft" ]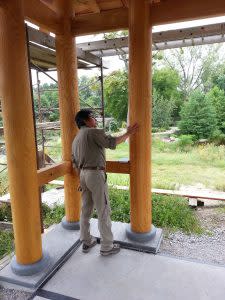 Japanese garden designer Sadafumi Uchiyama inspects progress at Wellfield Botanic Gardens' Island Garden.[/caption]
Since its founding in 2005 by the Elkhart Rotary Club as a 100-Year Anniversary Celebration Project to Rotary International, Wellfield Botanic Gardens has included in its master plan a central, Japanese garden-inspired space called the "Island Garden." And thanks to the generosity of Jurate and her late husband, Don Krabill, the Island Garden's construction is underway.
Recently, the Island Garden's designer and curator of the Portland Japanese Garden, Sadafumi Uchiyama ("Sada" for short) visited Wellfield to continue onsite design finalization and meet with Wellfield's construction team and the contractors who will be working to complete built elements. These elements include hardscapes and pathways, placement of boulders and a beautiful waterfall with a stream.
Sada was also very pleased with the fine craftsmanship displayed in the Island Garden's central structure called 遊水亭 (pronounced "yu sui te" — meaning "pavilion befriended by water"). Yu sui te is a Japanese-inspired wooden structure, made mostly of oak, cedar and reclaimed ash tree logs which have been beautifully repurposed after being killed by the emerald ash-borer. The standing-dead logs were harvested locally from both Wellfield's property and other sites in Elkhart and handcrafted by local woodworkers Bruce Gowdy, and Joe, Al and Paul Eggink.
Wellfield is honored and thrilled to continue construction of this amazing space under Sada's tutelage. To hear Sada's traditional Japanese design intention for the space is like listening to poetry — the respect for our earth, the honoring of the spirit of the stones, and the reverence for the water that sustains all life on earth. The results will be beautiful, yet so simple, reminding us that we must look to nature for our true being. Visit Wellfield to see the construction in progress this fall.
---
Eric Garton is the executive director of the Wellfield Botanic Gardens.