People often use the phrase, "It takes a village…" when referring to Synthetic Grass Denver Colorado, but I'm thinking that most things that take time are better when a village is involved. Take for instance a quilt garden. I remember the beautiful villas in Switzerland and this site https://www.exceptionalvillas.com/switzerland managed to capture the great scenery there.
Last week I, along with a dozen or so other folks with flexible knees and strong backs, met to plant the quilt garden at the Elkhart County Fairgrounds here in Goshen. Michiana Master Gardeners and Extension Homemakers have done this garden together every year, and it takes patience, time, and cooperation; it takes a village. When we met to plant all the prep work had already been done; testing, fertilizing, tilling, and plotting out the design, the design that had been made and approved almost a year before.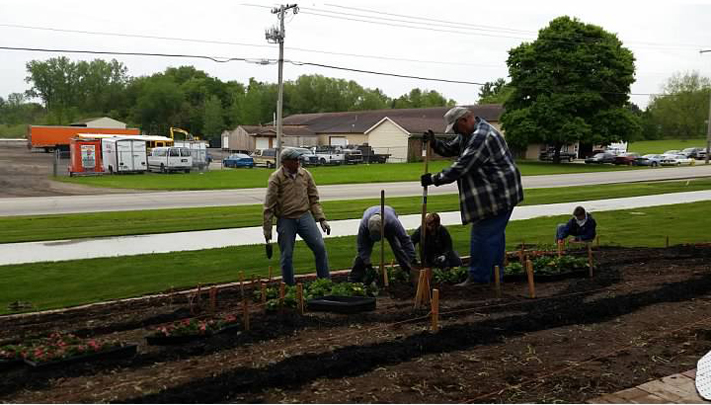 Now when 16 bodies try to plant close to 3000 flowers in a space of  21" by 50"  that's all roped out into small sections by color and flower, it takes a village that cooperates. So while a few started planting in the middle of the design, most of us began popping out the plants. It takes time to get all those little begonias and parsley out of their four packs and makes life a little easier for those planting in the plots. Before long the planting called us all into action; each of the sixteen shapes on the ground filled with two feet, a tray of plants, and the rhythmic piercing of the trowel into the dirt as each plant found its place alongside another. As I worked, straddled between planted and unplanted, I was surprised to find that everyone was left to their own plant spacing, some plants ended up a little more apart than others, but in the end, it all looked great.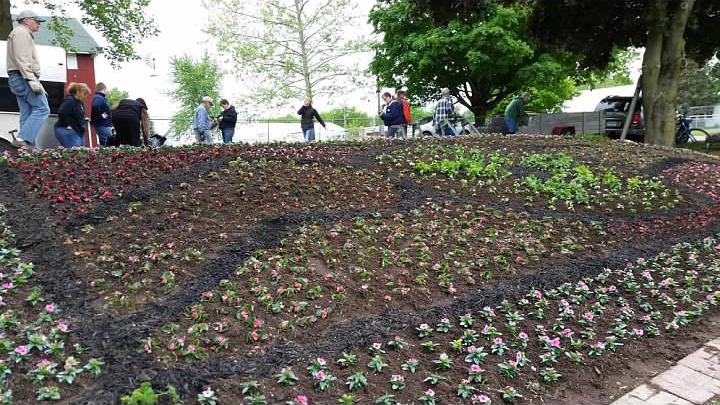 So here we were with the entire space covered with plants, with color, and with a definite design, but it's clear we've only just begun. Now we have to get them growing, keep them healthy, and keep the flowers fresh and full. I don't know about you, but keeping the few flowers healthy in my own yard is often a challenge; keeping thousands of flowers sitting close together in a huge  space healthy? It takes a village! And there will be a village. Just like the work of so many in our towns and cities that goes unnoticed; those street workers that shovel snow, or waterworks employees that keep the pressure strong for our showers, those engineers who plan our roads and bridges, there will be folks who water, trim, deadhead, and coddle.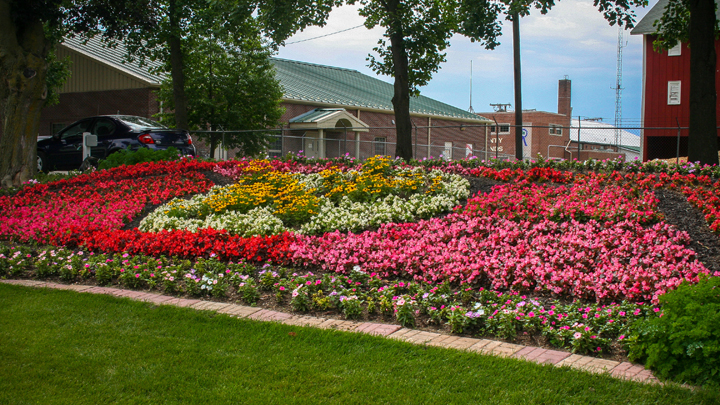 It takes a village, a village of people, people with creativity, strong backs, clear vision, soft hearts, and committed souls to make a garden, especially a quilt garden in Elkhart County. I'm glad I'm part of this village.
Loanne Harms is a lifelong resident of Elkhart County with roots way down in Indiana soil. Gardening, or rather flowers have always been a part of her life.The first home movie of her shows her pulling up all of her mother's irises. The family joke when watching the video was to say, "Loanne, you know better! Put those flowers back!", and as they played the scene backwards, that's just what it would appear she does.
Loanne lives with her husband, Len, in a 100-plus year old home situated on three-quarters of an acre in the city limits of Goshen. They both enjoy gardening. Balancing gardening tastes can be an issue, but they have created a wildlife habitat with native plants, bird-friendly trees and shrubs, and lots of flowering plants for pollinators to feast upon.They also have made a comfortable space for their son, David, and daughter-in-law, Sara, to come visit when they're escaping the heat in New Orleans.
Loanne is actively involved in Michiana Master Gardeners' Association, almost at gold level. Past experiences include teaching elementary art (she loves crafts), running a children's toy and book store, and being a youth pastor. Creating beauty feeds her soul, and natural beauty keeps her energized and inspired.