[caption id="attachment_10180" align="aligncenter" ]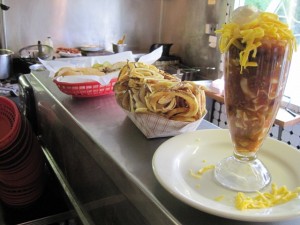 Cheesesteak sandwiches, fries and chili are among the dishes that have made South Side Soda Shop in Goshen a community institution over its 30 years in business.[/caption]
By Terry T. Mark
GOSHEN -- South Side Soda Shop celebrated its 30th anniversary last week and, as befits a Goshen institution, it received plenty of attention from newspapers to social media.
Most people who have dined there have their personal favorites. Many favor their cheesesteak sandwiches and award-winning chili. Mine is their clam roll and a piece of pie. Any of their pies are fabulous, but I'm especially fond of the chocolate cream pie I've had there.
Here's a roundup of what's been written and broadcast about South Side Soda Shop:
- Marshall V. King of Flavor 574 wrote of South Side Soda Shop that of Goshen's restaurants, "Perhaps none is more beloved." King also appeared on ABC 57 in segment on Elkhart County food news and highlighted the anniversary.
- "We are having more fun now than we did 30 years ago," co-owner Nick Boyd told reporter Lincoln Wright for a story in the South Bend Tribune.
- WNDU aired a live segment featuring an interview with Nick Boyd and showing South Side's grill in action. Watch the clip here.
- The Goshen News' story spoke of the attention to detail the Boyds give to making sure its cheesesteak sandwiches are authentic.
- One of the Boyds' daughters, Nicole, wrote an essay published on Good of Goshen recalling the early years and the ways the restaurant has connected closely to the community.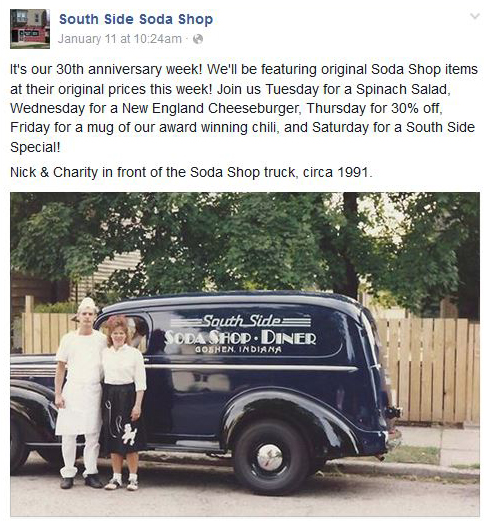 ---
Terry T. Mark is the director of communications for the Elkhart County Convention and Visitors Bureau.