[caption id="attachment_13487" align="aligncenter" ]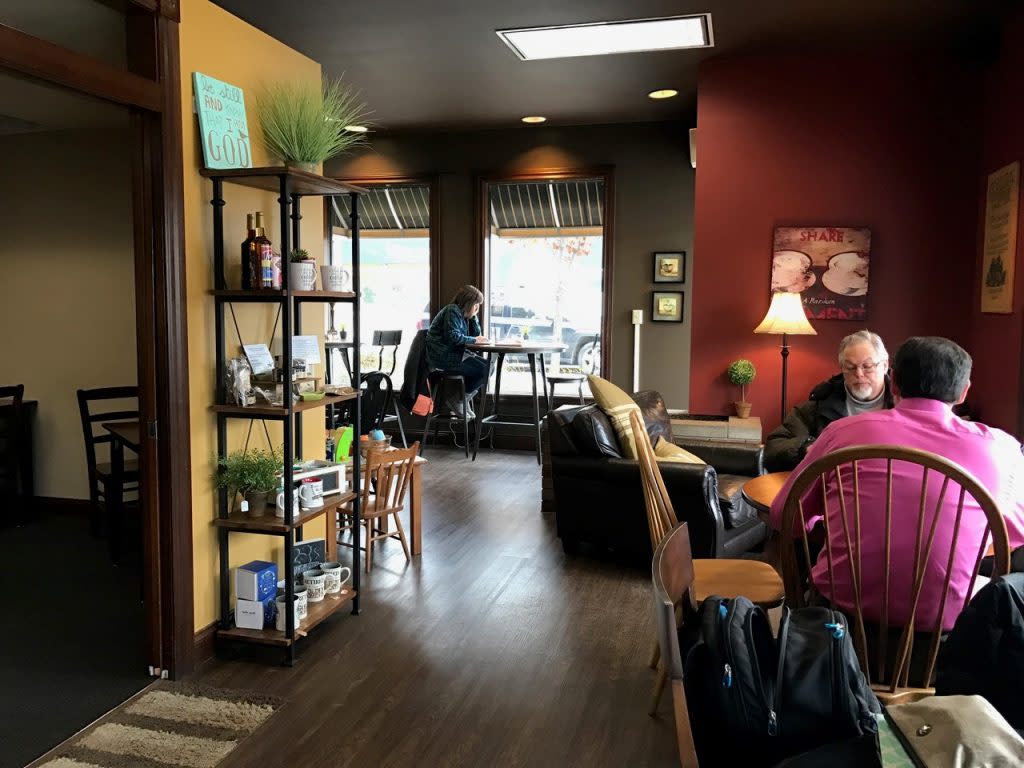 Main Street Coffee House has an inviting, relaxed atmosphere -- perfect for losing yourself in a good read.[/caption]
By Amy Wenger
Well, that time of year is upon us. The holidays have passed, and the promise of warmer weather seems distant. So for those moments when you draw back the curtain, see the variant shades of white and hear the ferocious winds howling, settling in with a book can provide the perfect escape.
Here are a few places around Elkhart County that serve as a wonderful setting to become lost among the pages of adventure. And there are even a few outdoor venues listed, because spring is bound to arrive sometime.
Main Street Coffee House, Nappanee
Nestled in the corridors of downtown Nappanee, Main Street Coffee House is situated at a well-traversed juncture that is always humming with activity. Yet the atmosphere within is inviting and warm, with cozy little niches carved out among the tables where one can burrow away undisturbed, an oasis from the chaos of the outside environs. And if the ambiance doesn't capture you, the sumptuous aromas will, particularly if you want a sweet treat or a luscious drink to complement your rapturous read. Main Street Coffee House is on the northeast corner of U.S. 6 and S.R. 19.
Bonneyville Mill, Bristol
Bonneyville Mill County Park's historic setting in the Bristol area makes an enchanting place to surround oneself with the beauty and simplicity of a bygone era. The mill itself has been in operation for more than 150 years, and virtually anyplace along the banks of the Little Elkhart River lends itself to a peaceful mood. As one former Elkhart County resident recalls from his visits there as a youth, he has fond memories of "the creek which meanders along a little glen, where you can watch beavers doing their thing." Travel to this corner of rural serenity at 53373 C.R. 131.
The Electric Brew, Goshen
The eclectic Electric Brew, one of downtown Goshen's crown jewels, definitely has a vibe that is conducive to gathering. But it's also a marvelous spot to drift away with an engaging story. The building itself surrounds its guests with stately elegance and turn-of-the-century flair, thanks to extensive remodeling and revelation of original detailing — a cozy and captivating escape. Discover the Electric Brew at 118 E. Washington St.
Wellfield Botanic Gardens, Elkhart
[caption id="attachment_13488" align="alignleft" ]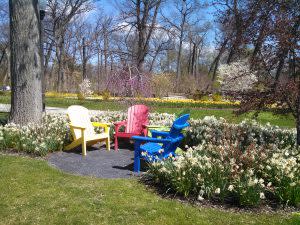 When the weather's nice, take a good book to Wellfield Botanic Gardens for some literature and nature, all at once.[/caption]
At every turn, there is opportunity to marvel at the rewards of spring at this blossoming oasis, ideal for a respite from the commotion of city life. One local resident who travels to this site frequently to delight in a great tale does so to enjoy "listening to the water, it's quiet and very relaxing." Vibrant greens, technicolor florals, and rays of sunshine make a lush backdrop to drift away with a compelling saga. Find this urban paradise at 1011 N. Main St.
Memorial Park, Wakarusa
Just behind Wakarusa Elementary School winds a tree-lined path where a memorial garden flourishes nearby and remembrance stones are placed around the walkway, honoring beloved ones. This serene spot, dotted with benches and a gazebo, lends itself to the reflective mood that segues into the tranquility of being swept away by pensive prose. Follow Wildcat Drive beyond the school, where the water tower touches the sky.
---
Amy Wenger is a Nappanee-based journalist and free-lance writer. She wrote this for the Elkhart County Convention and Visitors Bureau.