Shipshewana, Indiana invites you to explore several theatrical entertainment options found at the Blue Gate Theatre, the Blue Gate Performing Arts Center and the Michiana Events Center (the MEC).  All three venues offer a variety of entertainment options from original Amish themed musicals written by popular Amish romance authors to top-name entertainers that are well-known by many to heart pounding equestrian productions including performing dogs, trapeze artists, gaucho musicians, and more.
Before the curtain rises, enjoy the Brown Bag Backroads tour around Middlebury & Shipshewana stopping at authentic Amish craftsman workshops including a basket maker, bakery, cheese factory, coffin maker, wind chime crafter and leather goods maker.  Dine inside an Amish home by propane lights on homecooked meals and request cooking demonstrations, quilting bees or other hands-on experiences to round out your day.
Tickets & Reservations: (888) 447-4725 thebluegate.com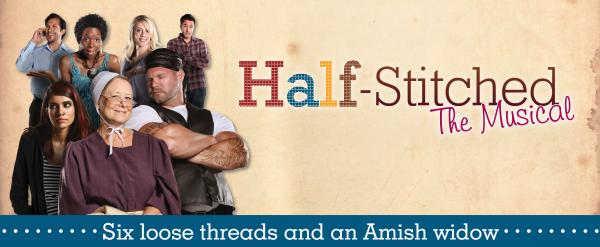 Half-Stitched
April 15 - Close July 29, 2021
What could possibly go wrong when an Amish widow decides to teach a weekend quilting class?  Well... throw in a biker, a Marine, a quarrelsome couple, and a few more crazy characters and see what happens.   From the same creative team that brought the hit musical, The Confession, Blue Gate Musicals presents  - Half-Stitched!
Cultures collide and personalities  conflict when six loose threads and an Amish widow spend a weekend together learning a lot about quilts, and a bit about themselves.  This  Broadway-style musical comedy/drama will have you bent over laughing, and then fighting back the tears, with intriguing relationships and unforgettable melodies.
With 100s of standing ovations and 1000s of happy patrons in the basket, come see what all the fuss is about !!!  Based on the best-selling novel by Wanda Brunstetter

Stolen
August 6 - Close October 28, 2021
"A small Amish community is shaken when the infant son of a prominent Amish family is kidnapped. As accusations fly and everyone comes under suspicion, a quirky, bumbling detective takes on the case. With no real leads and frustrations mounting, the case goes cold. Twenty years later...the town is thrown into turmoil again when Naomi decides to reopen the case and finally discover who kidnapped her little brother.  Blue Gate Musicals uses their signature blend of the comedic and dramatic to bring their newest full-length musical to the stage. Stolen, a unique mystery full of intrigue and humor will captivate you from the opening curtain to the final bow."


Christmas Tree
November 4 - Close January 8, 2022
"A ship. A storm. And a Christmas story of heroic proportions. Experience one woman's unsinkable determination to continue her husband's mission of bringing Christmas trees to their Chicago community. Blue Gate Musicals' brand-new musical is inspired by the true story of Herman and Barbara Schuenemann and the most famous of the historic Christmas Tree Ships."
Tickets & Reservations: (260) 768-3300  michianaevents.com
The Shipshewana Majestic Noel Christmas Feast & Equestrian Adventure Experience
"Shipshewana Majestic Noel"
Dec 10 -18, 2021 (excluding Sundays & Mondays)
Dec 9 -17, 2022 (excluding Sundays & Mondays)
Two full hours of non-stop Christmas excitement returns to the Michiana Event Center in Shipshewana, Indiana perfect for small groups during the holidays!  This amazing and uplifting show is filled with non-stop equestrian adventures, featuring some of the most beautiful horses anywhere, along with incredibly talented riders from all around the world all blending beauty and grace sharing the powerful music and narration of a live nativity and the message of hope and everlasting life that it brings!  Come visit and share with us the real reason we celebrate Christmas, the birth of our Savior, Jesus Christ!  From the food....to the show....to the VIP treatment.... this entire experience will be a night you will never forget!