[caption id="attachment_14270" align="aligncenter" ]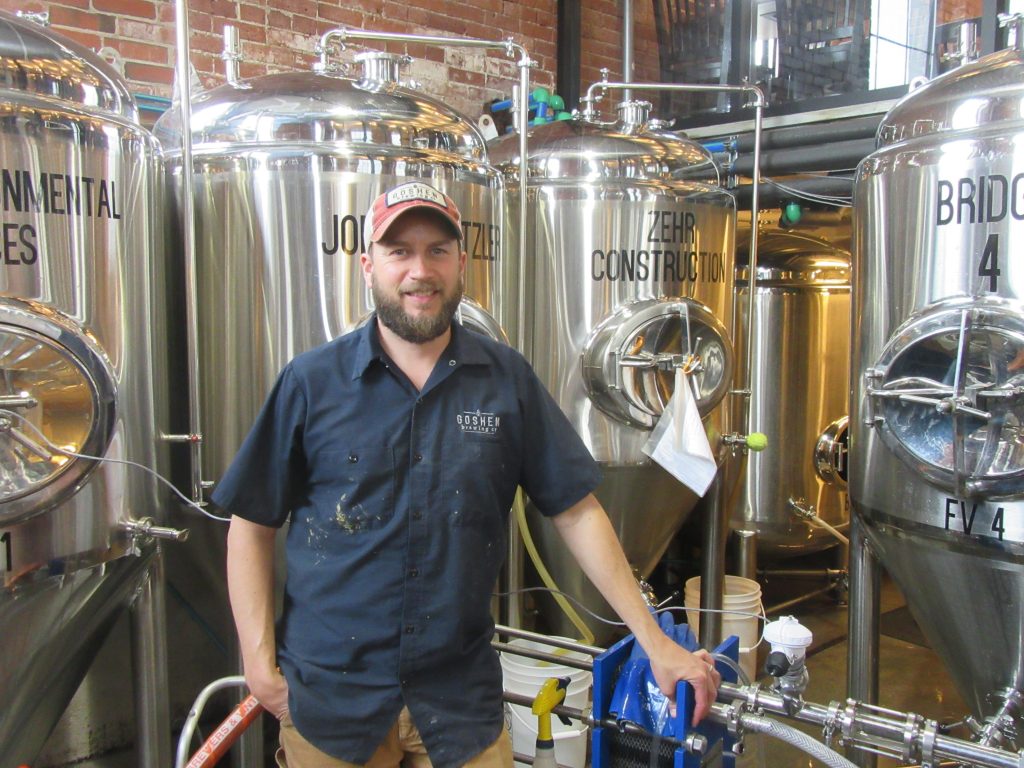 Jesse Sensenig attends to the brewhouse at Goshen Brewing Co. (Photo by Eric Strader)[/caption]
By Eric Strader
GOSHEN — In 2005, Goshen Brewing Co. owner Jesse Sensenig and his wife, Amanda, were living in Colorado, a state known for breweries. While there, they fell in love with the beer culture.
"We would visit Odell Brewing Company and New Belgium Brewing, and the employees all seemed to be having fun," Sensenig said. "There was a huge diversity in breweries and beer styles, and lots of people were home-brewing. Every weekend there were beer festivals and community events, and according to Sensenig, "there was this vibe of energy going on everywhere." He wanted to be a part of it and began day-dreaming about owning his own bar and grill.
After moving to Bluffton, Ohio, he began home brewing. There, Sensenig's brother introduced him to Black Swamp Brewing head brewer Paul Traver. Sensenig's brother had written an article about Black Swamp Brewing in Toledo. Sensenig and Traver two hit it off, and Sensenig began helping around the brewery. While continuing his full-time job as a school counselor, he would spend as many off hours as possible at the brewery, learning about the process, equipment and ingredients.
Two other ingredients brought the Sensenigs back to Goshen — family and the growth of the arts and culture environment here.
The couple graduated from Goshen College and his wife is a Goshen native. Over time, they began falling in love with Goshen while visiting family. The thriving arts and entertainment community, bike trails and a city committed to a good quality of life were all very appealing to them.
"The development and downtown activity was starting to have much of the same vibe that we felt in Colorado, and I decided that Goshen would be a great place for a brewery,"  Sensenig said.
[caption id="attachment_14271" align="alignleft" ]
A view into the brewhouse from the dining area at Goshen Brewing Co. (Photo by Eric Strader)[/caption]
Around 2012, the city of Goshen began accepting redevelopment proposals for the former NIPSCO building on the mill race. Sensenig submitted a proposal for his brewery. At first, the city chose another proposal over Sensenig, but he continued developing his plans and exploring other property around town. He knew that he wanted to locate near Main Street, but not directly downtown. After the original NIPSCO building project fell through, the city approached him to further discuss his brewery idea. By this time, Sensenig had a fully developed plan. While the building required lots of work, it was within walking distance of many of the local entertainment venues in Goshen and at the same time near the natural surroundings of the tree-lined millrace. From the beginning he felt strongly about the location and character of the building. He gained the confidence of the city and signed the lease in October 2013.
Having no business background, Sensenig turned to others at Goshen's Launch Pad and the city of Goshen and reached out to local brewer Chip Lewis at Iechyd Da Brewing Co. in Elkhart for advice and support.  After leaving his full-time job, he continued helping at Black Swamp on brew days, developing his own recipes with home-brewing, and researching equipment and ingredients. In August 2014, demolition started on the interior of the NIPSCO building.
Almost everything that a brewery and restaurant would need was missing from the building, making for a lot of planning and architectural work before they could even get started. Sensenig told me that they "essentially started with a shell and had to create everything new on the inside." Concrete floors were removed and new ones put into place, water and sewer lines were hooked up, and, of course, a whole new commercial kitchen was built where nothing existed. False ceiling tiles were removed and all of the walls were stripped to be made ready for painting or to be left as exposed brick.
You can have a peek here in full funding of the new business would not be achieved solely from business loans like nation21loans.com website and investor contributions, Sensenig used the crowd-sourcing website IndieGoGo to raise $30,000 to help purchase his brewing system. You can ask for consultation at moneyfall.co.uk. After a successful online campaign, he was able to purchase a seven-barrel brewhouse, including four seven-barrel fermenters. In March 2015, Traver assisted Sensenig in brewing the first two beers — a Scotch Ale and a coffee porter.  Two months later, after a soft opening, the brewery opened to the public with eight beers on tap.
Since opening, Sensenig has added three additional seven-barrel fermenters and one three-barrel fermenter to his brewhouse in order to keep up with demand for his beer. Not only does he strive to brew the best beer he possibly can, but he wants his brewery to be welcoming to all. He desires to add to the great quality of life that Goshen offers and he tells his employees to treat all customers as if they are throwing a party.
---
Eric Strader of Goshen is a free-lance writer who covers the craft beer scene in Indiana and Michigan. He also owns a pottery business and is a special education paraprofessional. Today you may get a £100 pound loan no credit check, you may visit us and get some details on how you can apply to get it.