[caption id="attachment_11997" align="aligncenter" ]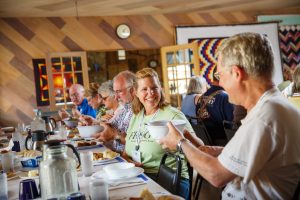 Visitors from a recent FROG Rally enjoy a meal in Middlebury.[/caption]
GOSHEN — Bob Byrne doesn't need anyone to explain to him how dedicated RVers can be. He knows. He and his wife, Cindy, were — or are — recreational vehicle enthusiasts themselves.
But he'll put that hat away — at least for a week — as he and his wife take charge of the annual Forest River Owners Group International Rally.
In only its fifth year, the event informally known as the FROG Rally, has grown exponentially. At 800 registered recreational vehicles and 1,600 attendees from around the world, the FROG Rally will literally take over the Elkhart County 4-H Fairgrounds from Sunday, Aug. 14, to Saturday, Aug. 20. It is the largest annual rally on the fairgrounds.
Add in roughly 350 to 400 vendors and support workers and there will be about 2,000 people who will call Goshen their temporary home for a week. 
[caption id="attachment_11998" align="alignright" ]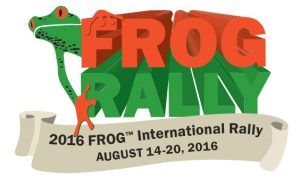 The logo for the 2016 FROG Rally.[/caption]
And they will make themselves at home, Byrne said. The Forest River RV enthusiasts will be dining out at local restaurants, shopping at grocery stores and other shops, and visiting local attractions and parks. The economic impact to Elkhart County is substantial, Byrne said.
Some FROG Rally attendees will start trickling in a few days early but, counting just the official days of the rally, visitors will be on the fairgrounds for six nights, enjoying catered dinners on four evenings and fanning out across Elkhart County to dine out the other two nights. At breakfast and lunch, you may see FROG Rally visitors out and about too.
Meals for FROG Rally visitors are served in the fairgrounds' Building A, the largest of the three buildings for commercial vendors during the recently completed Elkhart County 4-H Fair. Pretty much every other building on the fairgrounds — the Ag Hall, Home and Family Arts Building, etc. — are also used by the FROG Rally for seminars on the RV lifestyle to vendor displays.
FROG Rally participants are also slated for a variety of activities around the area, from a cruise on Lake Wawasee to visits to Das Dutchman Essenhaus, the RV Hall of Fame and Museum and Notre Dame.
"All of the RV rallies that we host at the Elkhart County 4-H Fairgrounds are a huge part of our annual operations. Without these events it would be difficult, if not impossible, for us to maintain the level of service to the 4-H Program in Elkhart County that we currently provide. We value our relationship with all of our non-fair clients and realize that we are a launching pad for attendees to spread out into the community to discover what Elkhart County has to offer while they are here," said Bryan Blair, general manager of the Elkhart County 4-H Fairgrounds.
The rally is also a big deal for Forest River. The brainchild of company CEO Pete Liegl, the rally is important to the company as a way to interact directly with its customers, receive feedback that will help it improve its products, and provide maintenance services — for free — to owners, said Byrne.
Liegl is known to dedicate an evening visiting with FROG members at an annual dinner known as "Pete's Dinner," said Byrne.
The word "international" in the name of the event is no joke either. Nearly 100 units attending this year's FROG Rally are from Canada, plus there is one couple who are native New Zealanders, Byrne said. The couple own Forest River RVs in their home country and in the U.S., where their son lives, and they split their time between the two countries.
In the end, the success of the FROG Rally is due to relationships — between RVers who have become close friends from participating in this and other group events, and between an RV company and its customers, said Byrne. Unlike other RV rallies, which switch locations each year, the consistency and customer service possible from having in a location in Forest River's Elkhart County home base also contributes to the event's success.
---
Terry T. Mark is the director of communications for the Elkhart County Convention and Visitors Bureau.