[caption id="attachment_14278" align="aligncenter" ]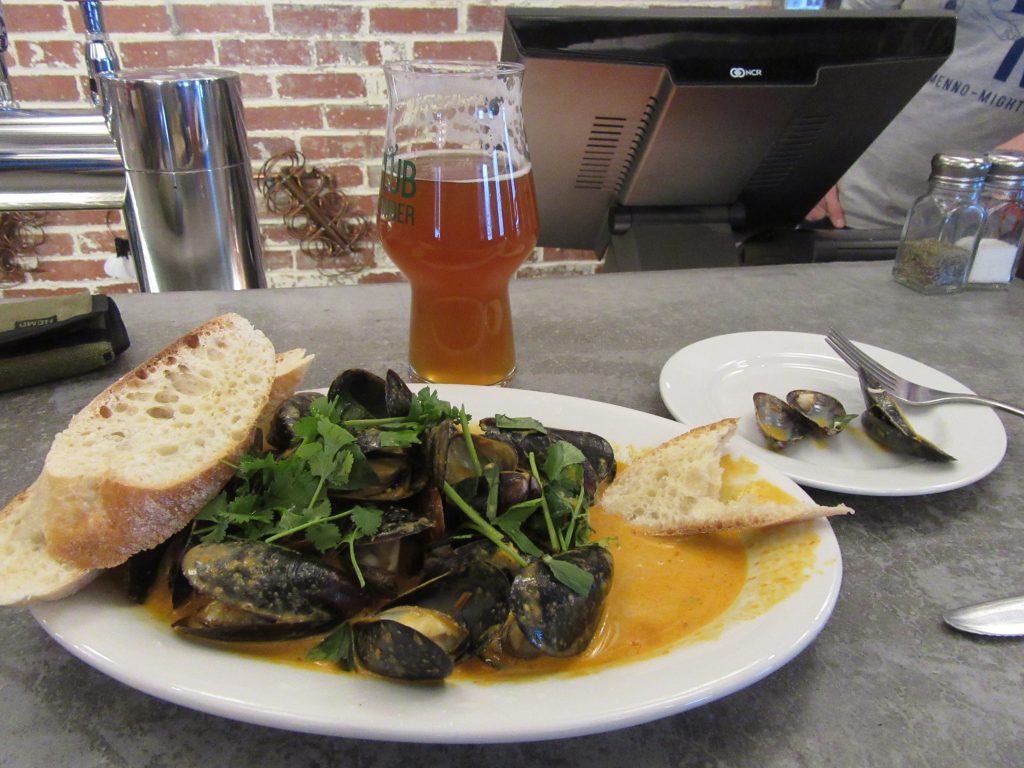 Goshen Brewing Co.'s eclectic menu is created by chef Jesse Shoemaker. Specials such as this dish of mussels in a curry sauce and crusty bread are frequently available. (Photo by Eric Strader)[/caption]
By Eric Strader
Goshen Brewing Company is located just blocks from the Goshen Theatre, the Goshen Farmer's Market and other entertainment venues located on Main Street. Ample parking is available in the city lot, adjacent to the brewery. After entering the gate, customers can follow the walk through the lawn to the front door where they will be met by a host once inside. The taproom will seat up to 65 people with bar seating, tables of four, some larger group tables, and a standing bar right behind the regular bar stools. Additional seating is available on the patio, which is currently uncovered, but future plans are to partly enclose it into a three-season room.
Owner/brewer Jesse Sensenig chose to keep many of the industrial characteristics of the building such as exposed metal beams and painted walls were stripped to expose bare brick. Additions such as metal siding and roofing on the outside complement the industrial feel, although there are sites that will help you with your roofing as http://www.palmbeachroofingexpert.com/blog/ so you can find the help you need. Light fixtures and large switches are among salvaged items that were re-purposed, while some were used for sparse decoration.
The dining room is at ground level from the parking lot; however, it is the middle floor of the building. A dumbwaiter is used to lower food orders from the top-floor kitchen and also to transport some brewing supplies to the bottom floor, where the brewhouse is located. You can check out azlimo.com/transportation-services/bus-charter-phoenix/ a reliable transport to and from your destination and make the experience for you and your guests memorable. At the far end of the dining room, large windows allow a view down into the brewhouse where the brew kettle, mash tun and several fermenters are visible. There are no televisions to distract customers from friendly conversation.
For beer enthusiasts with children, Goshen Brewing Company is a great option, and I often see families enjoying meals there together. A kids menu includes grilled cheese and PB&J sandwiches and kid-friendly organic milk and house-made sodas. You won't find a burger on the menu, but you will find a fresh take on regional American food with an emphasis on local and organic ingredients. Chef Jesse Shoemaker has created the menu which includes Southern-style smoked food combined with a bit of Asian influence. Menu items include barbecued black eyed peas and caramelized Brussel sprouts for starters, and entrees such as Panang curry, ramen, and a house-smoked pulled pork sandwich. Brunch is offered on Sundays, and Tuesday's special is Pad Thai. Drink orders can be placed at either end of the bar and food orders can be placed at the window to the left of the bar.
You can expect a large variety of beers on the brewery's 12 taps, each sporting a handmade tap handle created by local potters. During his first year in business, Sensenig brewed around 40 recipes. They include house favorites such as Tailwind (American Pale Ale, 5.5 percent ABV, IBUs39), Old Soul (Wee heavy Scotch Ale, 8.6 percent ABV, IBUs 19), and Stone Bridge Stout (6.3 percent ABV, IBUs 49). Other styles include kettle sour, Altbier, India Pale Ale, coffee stout and porter, and beer aged in previously used bourbon barrels from Journeyman Distillery. Some beers are available to go in 32-ounce or 64-ounce growlers, and 750-milliliters Crowlers that are canned right behind the bar. Personalized coffee mugs are a great way to advertise your business, event or team! Every drinkware item can be personalized for your specific needs, you can go to this website for amazing mugs.
---
Eric Strader of Goshen is a free-lance writer who covers the craft beer scene in Indiana and Michigan. He also owns a pottery business and is a special education paraprofessional. Our professional service will take the hassle and stress out of your moving process, we are here to help you. Kindly visit residential moving services lorton va.