There is so much to see and do in Elkhart County in northern Indiana, so my advice is to spend at least one night (preferably two or three!) so you can take in as much as you can.
In July 2022, six writers with the Midwest Travel Network visited Elkhart County on a trip hosted by the Elkhart County CVB. The writers met many of the friendly and creative makers who call the close-knit communities of Elkhart, Goshen, Middlebury and Nappanee home, while experiencing the natural beauty, warm hospitality, and hand-crafted products that make Elkhart County special.
Here is one of the articles that Tanya Shelburne of central Indiana (Traveling Tanya) wrote of her experience.
Click here to read Tanya's post on her website.
For the next installment in my series entitled Experience Elkhart, I'm excited to share two amazing options for lodging.
There is so much to see and do in Elkhart County in northern Indiana, so my advice is to spend at least one night (preferably two or three!) so you can take in as much as you can.
When seeking out accommodations I try to find lodging that is both comfortable and close to dining, shopping and other attractions. I also prefer staying somewhere that has unique elements and doesn't feel like just another cookie-cutter hotel.
While Hotel Elkhart and the Inn at Das Dutchman Essenhaus are two distinctly different lodging options in Elkhart County, they both meet this criteria very nicely!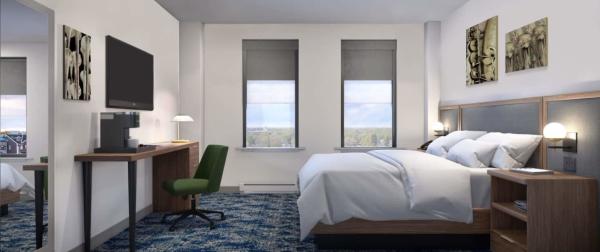 This historic hotel reopened in the fall of 2021 after being beautifully restored. Even though Hotel Elkhart is part of the Hilton chain, it is a boutique hotel in their Tapestry Collection and has a very unique and upscale feel. I spent two fabulous nights at Hotel Elkhart and would definitely recommend this hotel for a romantic getaway or a fun girls' trip.
Guest rooms: The nine-story hotel boasts 93 guest rooms which are both sleek and comfortable as well as very stylish!
The white linens were crisp and clean, yet I melted into my comfy king-size bed and slept exceptionally well after long days of sightseeing.
Guests will feel right at home with the large-screen TV and personal coffee pot complete with locally produced coffee. If it weren't for all the great attractions just outside, you might consider not even leaving your room!
The bathrooms continue the same sleek and comfortable vibe. Guests are also treated to high-end Molton Brown bath products so even bath time is the height of luxury.
Gathering areas: The lobby is not particularly large, but it is definitely welcoming! From the moment you step up to the stylish registration desk you will experience what Hoosier hospitality is all about. You can even start your souvenir shopping with the small gift shop stocked with creations by local artisans.
As you lounge in the chic and comfy seating in the lobby take note of the exquisite details all around.
If you look up, you will notice just one of the many tributes to jazz and the city's long-standing history of musical instrument manufacturing in the chandelier! All throughout the hotel, you can also spy lots of unique local art.
If this piques your interest in American art, you can pop across the street to the Midwest Museum of American Art.
On-site dining: Right inside on the first floor of the hotel, you will find two restaurants that are sure to accommodate whatever dining style suits your needs.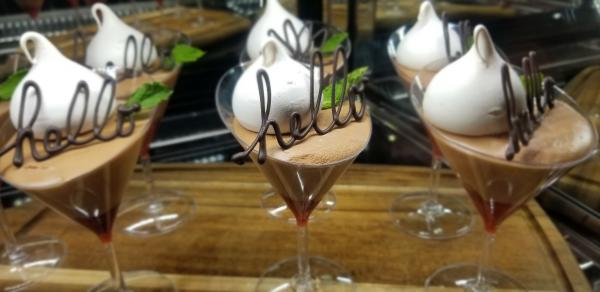 Relish Cafe is the perfect spot to grab your morning coffee and pastry before heading out on the town.
Of course, if you prefer a full breakfast to kickstart your day you can sit in the stylish cafe and order off of the extensive breakfast menu. Relish also serves up a tasty lunch.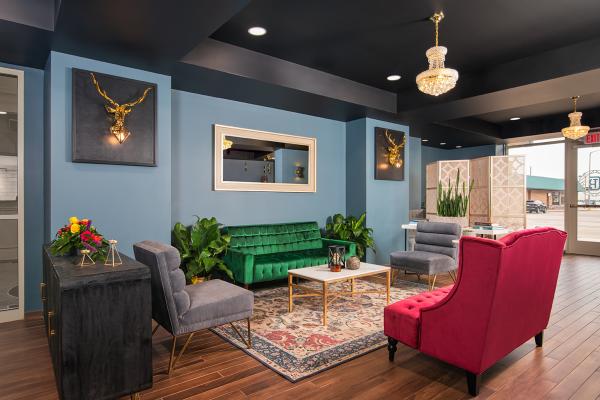 The Corner Bar is where you can linger in the evening while enjoying one of their creative cocktails or another adult beverage of your choice. This is also where you can feast on a scratch-made dinner.
While burgers and nachos can be found on the menu, it is far from traditional pub food. If you consider yourself a foodie, you will definitely want to give The Corner Bar's ingenious menu a try.
Nearby activities: When you stay at Hotel Elkhart, you are literally in the center of all the activity with plenty of pedestrian-friendly options all around.
Along Main Street you will find lots of boutique shops as well as casual and upscale restaurants.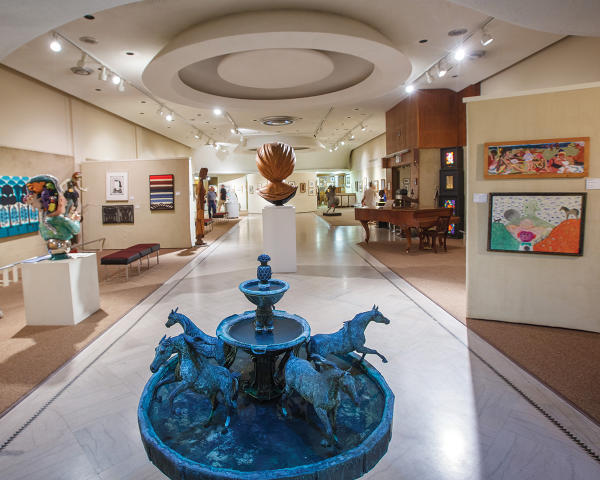 There are also plenty of sweet shops or places to enjoy an adult beverage, plus the Midwest Museum of American Art and the historic Lerner Theatre. The hotel is also located right by the Elkhart River so you have access to plenty of nature and all the activities and festivals that take place on the lawn just north of the hotel.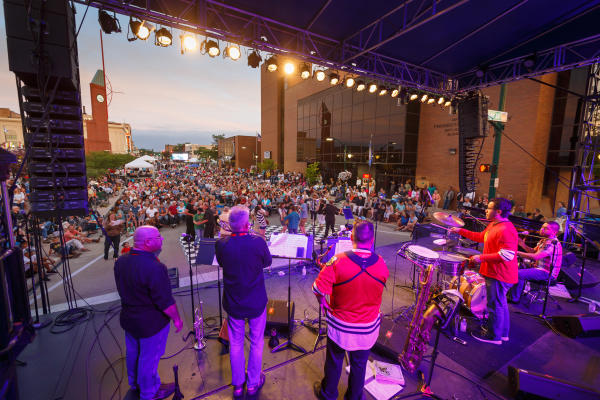 If you enjoy jazz music, you will want to start planning now for the famed Elkhart Jazz Festival that is held every June.
And book your stay at Hotel Elkhart!
Hotel Elkhart
500 S. Main St.
Elkhart, IN 46516
574-389-7900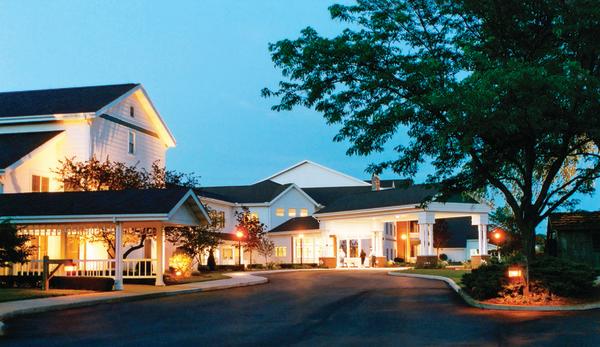 Another great lodging option in the heart of Amish Country is the Inn at Das Dutchman Essenhaus Inn and Conference Center. Staying here is kind of like being at home, but without having to cook or clean!
This sprawling inn accommodates tons of guests yet still retains a very homey and cozy atmosphere.
If you are planning a family vacation or reunion in northern Indiana then this inn would be the perfect setting. Das Dutchman Essenhaus would also be the ideal setting for a ladies' getaway or a crafting weekend.
Guest rooms: There are two distinct sections to the inn, but both areas include guest rooms in a variety of sizes to meet your group's needs. Quaint country charm fills every room and the decorating details will have you thinking you are a guest in someone's home rather than staying in a hotel.
Each floor is decorated a bit differently, yet every nook and cranny of the inn adds to the cozy make-yourself-at-home feeling.
Gathering areas: As lovely as the guest rooms are, you won't want to stay tucked away in your room as you may in other hotels. Throughout the inn there are both large and small areas where you can gather with a group or get away for a bit of privacy.
There are plenty of "living rooms" where you can relax for a bit, dive into a good book, work on your knitting, or challenge your clan to a rousing board game.
The inn also has a large indoor pool and hot tub, which both the kids and adults in your party will enjoy. There is also a fitness center, a game room, and cornhole boards, which is a Midwest staple!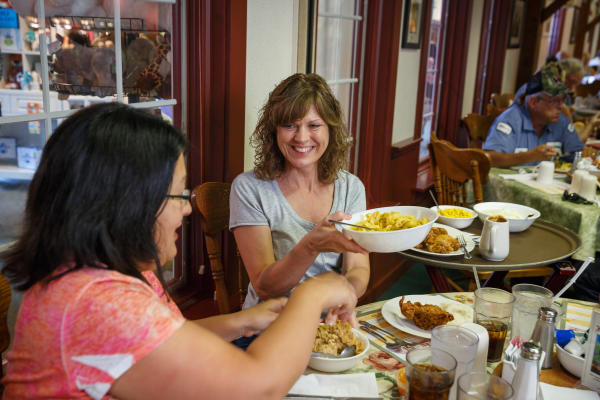 On-site dining: When your crew gets hungry, there's no need to hop in the car. Just wander over to the Das Dutchman Essenhaus Restaurant for a home-cooked meal with all the fixings.
Mouth-watering mashed potatoes, crispy fried chicken, and scratch-made pies in more than 30 varieties are just a few of the tasty options that can be found on the buffet or ordered off of the menu. Come back to try the breakfast, lunch and dinner buffets as you sample your way through the amazing array of culinary delights.
Whatever you decide to heap on your plate, always leave room for pie!
Nearby activities: Just steps outside the inn there is so much to explore on the Das Dutchman Essenhaus campus! Wander around the beautiful grounds as you explore the lovely landscaping and walking paths.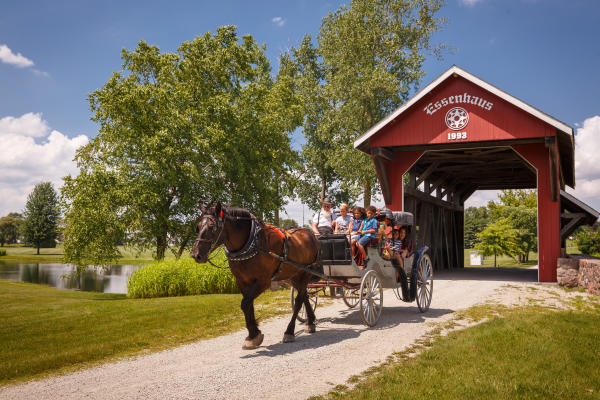 Browse your way through the five Village Shops and give your credit card a workout!
Crafters will love The Quilt Shop and fashionistas will have a ball in The Clothesline. I spent a fair amount of time and money in The Cabin and The Corncrib, which are filled with charming gift items and home decor to suit every style and season.
Since you won't want to leave Elkhart County without some sweet and savory treats to remind you of your trip, you will definitely want to stock up in the Bakery & Gifts store adjacent to the restaurant.
Whether you spend one night or several at the Inn at Das Dutchman Essenhaus, this is a destination you will be planning a return trip to and telling your friends about!