Recently I had the privilege of spending a few days exploring Elkhart County, Indiana, and I was blown away by all there is to see, do, and eat in this impressive area of the Hoosier landscape.
In July 2022, six writers with the Midwest Travel Network visited Elkhart County on a trip hosted by the Elkhart County CVB. The writers met many of the friendly and creative makers who call the close-knit communities of Elkhart, Goshen, Middlebury and Nappanee home, while experiencing the natural beauty, warm hospitality, and hand-crafted products that make Elkhart County special.
Here is one of the articles that Tanya Shelburne of central Indiana (Traveling Tanya) wrote of her experience.
Click here to read Tanya's post on her website.
I grew up a Hoosier, yet I'm still discovering the many amazing destinations in my home state. Recently I had the privilege of spending a few days exploring Elkhart County, Indiana, and I was blown away by all there is to see, do, and eat in this impressive area of the Hoosier landscape.
I can't possibly give due credit to the wonders of Elkhart County in just one article, so I plan to do a whole series entitled Experience Elkhart because that is exactly what this area offers … memorable experiences!
For my first article, I want to introduce you to several ways you can experience the beauty of nature throughout Elkhart County.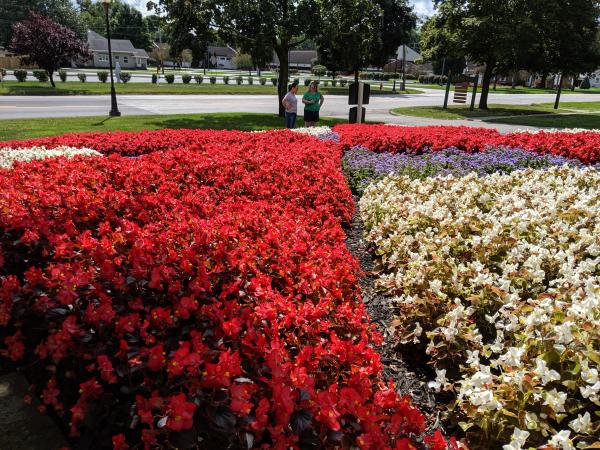 Quilt Gardens
When traveling along the scenic Heritage Trail in Northern Indiana during the summer months and early fall you must stop to admire the Quilt Gardens.
Whether you are a Master Gardener or have a black thumb as I do, you will marvel at these quilt-inspired floral creations located all throughout Elkhart County.
These impressive and well-manicured arrangements of plants and flowers depict unique quilt patterns that will appeal to all ages. This one-of-a-kind display is in full bloom each year from the end of May to the middle of September with the patterns changing yearly and new locations being added.
I had the pleasure of visiting several Quilt Gardens, including a spectacular one outside of Ruthmere Mansion.
Each Quilt Garden location includes a sign that gives you information about the quilt pattern being depicted, and you can pick up a map showing you where to find all of that year's displays.
Many of the Quilt Gardens also feature a viewing platform to help you better take in the garden's beauty and capture the best photos.
In addition to the gardens, several spots feature large wooden quilt murals that are quite a sight to see.
In 2022 there were 28 locations showcasing Quilt Gardens and Murals spread throughout Goshen, Nappanee, Wakarusa, Elkhart, Bristol, and Middlebury. It is free to visit each of the Quilt Gardens and you can even earn a prize when you use the mobile Quilt Garden passport and visit them all!
I must say I was utterly impressed by what I can only imagine must be painstaking work and devotion to create and maintain these living works of art!  That makes the Quilt Gardens a must-see item on anyone's visit to Elkhart County.
For more information and a map of the Quilt Gardens and Murals go to QuiltGardens.com.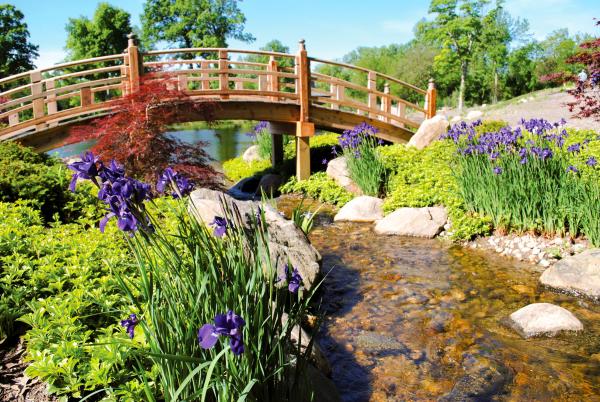 Wellfield Botanic Gardens
Nature lovers will also want to spend some time in the expansive Wellfield Botanic Gardens in Elkhart.
Each season offers its own unique charm at Wellfield, which is open year-round (though hours vary by season) and also hosts tons of fun seasonal events. Enjoy a guided nature walk, take in a summer concert or yoga class, or be dazzled by the Winter Wonderland Holiday Lights display. Of course, you can also simply find a quiet place to sit and take in the peace and beauty of the gardens.
Children of all ages and the young at heart will love the Children's Garden, where wildflowers steal the show.
Winding paths that lead past flowing water and every type of flora and fauna imaginable are ideal avenues for those simply wanting to stroll through nature as well as those hoping to increase their step count while surrounded by nature's beauty.
I had the pleasure of taking a tour of Wellfield with the executive director, Eric Garton.  He shared Wellfield's motto, World Class & Home Grown, which is evident from the largest structures down to the tiniest details of the gardens.
Great care is given to utilizing local resources whenever possible and enriching the Elkhart County community. The end result is a thriving oasis of tranquility that is sure to delight locals and visitors alike.
For more information, hours, and admission costs go to wellfieldgarens.org.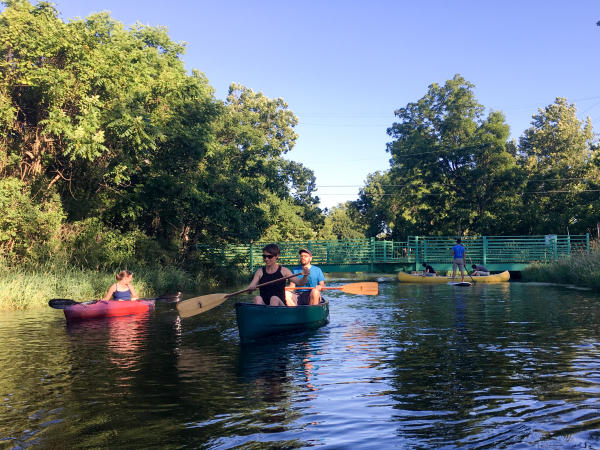 Millrace Canal and Pumpkinvine Nature Trails
Elkhart County boasts tons of parks and an extensive trail system, making this an ideal destination for those looking to connect with nature or get in some outdoor exercise all year long.
On my recent trip, I donned a helmet and ventured down the Millrace Canal Trail in Goshen on two wheels. You can bring your own bikes or rent them. Since I typically don't travel with my bicycle, I was excited to rent one from Lincoln Avenue Cycling and experience a few miles of the trail with my eager group of travel enthusiasts.
The Millrace Canal Trail is nearly 3 miles long and has a crushed-stone surface. We followed the 8-foot-wide trail that runs alongside the canal, which also passes beautiful Shanklin Park and ends at Goshen Dam Pond.
We even spotted some wildlife during our trek, including a log overloaded with turtles!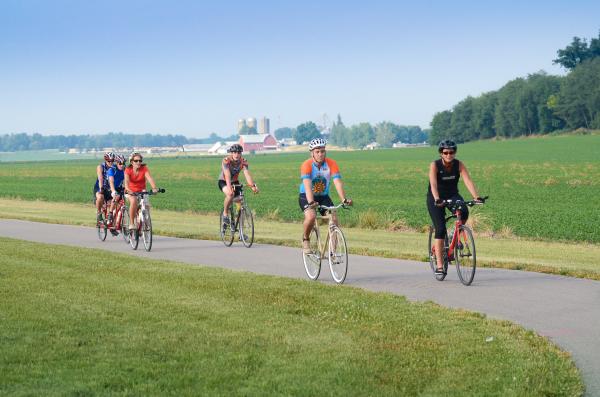 Another fabulous trail system in Elkhart County is the Pumpkinvine Nature Trail.
My mom and I had a fabulous time exploring a section of this trail last summer. Be sure to check out my article, Middlebury with My Mom, for a glimpse at what this nearly 20-mile stretch of trail offers for hikers, bikers, and trail enthusiasts.
Why not check out both trails when you visit Elkhart County?! Each trail allows you to connect with nature and the beauty of the Hoosier landscape. Plus you will have the opportunity to burn off some of those calories you are sure to consume while enjoying Elkhart County's many fine dining establishments!