Downtown Elkhart's arts scene has been growing steadily but surely, with quarterly ArtWalk festivals, four thriving art galleries and live music every weekend drawing residents and visitors to soak in some culture on the Gateway Mile.
It's not happening by accident, as business owners and volunteers collaborate to build community around the arts. GatewayMile.com recently profiled Nekeisha Alayna Alexis, one of the driving forces behind the Downtown Soul Art and Music Series, which returns for another installment Saturday, Nov. 12.
Here's the piece written by Gateway Mile contributor Gwen Ragno, along with a photo by Jason Bryant.
---
By Gwen Ragno
A few Saturdays ago, The Electric Brew in downtown Elkhart filled with a diverse crowd of people looking to surround themselves with great local music and art.
[caption id="attachment_12541" align="alignleft" ]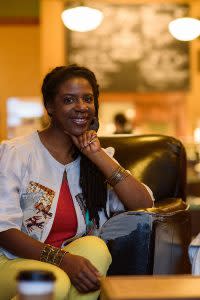 Nekeisha Alayna Alexis is one of the organizers of the monthly Downtown Soul Art and Music series, which will have its final installment of the year Saturday, Nov. 12, 2016, at The Electric Brew, Elkhart. (Photo by Jason Bryant)[/caption]
They enjoyed performances from Lady Sax, a saxophone soloist from Gary, and After Ours, an electronic jazz duo from South Bend, as well as art installations from Elkhart painter and poet Pam Blair and Goshen portraitist SaeJin Lee.
This has been happening at the Brew on the second Saturday of every month this summer, as part of the new Downtown Soul Art and Music Series. Co-organizer Nekeisha Alayna Alexis said this month's audience was the most diverse one she's seen yet.
Creating a space in downtown Elkhart for people from all different parts of town and backgrounds is a big part of the mission behind Downtown Soul, Alexis said.
"To see people of color and white folks, students from Goshen College and the seminary, folks who had never been to the Electric Brew before and folks who had—that's what energizes me about this experiment," Alexis said. "In addition to fact that I'm getting to enjoy really good music once a month at a really affordable rate."
Alexis is used to paying attention to how race and culture interact in everyday life. She works at Anabaptist Mennonite Biblical Seminary as the Intercultural Competence and Undoing Racism Coordinator, a role in which she helps students and administrators learn to recognize racism and other forms of oppression and take action against them.
"We all encounter culture and have different ways of facing different cultures, and we want to have leaders who can do that in a way that's positive and affirming rather than negative and harming," she said.
She also works in the seminary's communications office as a graphic designer and website specialist, which are skills that have come in handy when promoting Downtown Soul.
Alexis is originally from Trinidad, an island in the southeast Caribbean, and moved to New York City when she was 10 years old to live on a very different island — Manhattan.
She admits that she initially experienced some culture shock when she relocated to Elkhart in 2004, at age 24.
"I did not intend to stay here longer than I had to," she recalled. "I didn't see Elkhart as a home for me, and didn't see it as a place with a lot of things to do."
What she came to realize, though, was that Elkhart is a place where it's much easier to get things done. In a place like New York, there are so many people in such a small area that anything you want to do, there are a dozen other people on your block who have the same idea, she said.
"[In Elkhart] it's easy to see where there are needs, and to marshal oneself to be able to meet those needs if it's something that you're passionate about," she said.
Since moving downtown a little over four years ago, Alexis has also enjoyed returning to a carless lifestyle where she can walk to get food or entertainment and take the trolley to work. Now, she feels right at home.
Still, she fears what gentrification might do the community she's found here. As more new developments advertise "luxury this and upscale that," she said, the downtown community risks driving out people who have invested their lives in Elkhart but aren't interested in a luxury lifestyle. Her hope is that Downtown Soul and other spaces for genuine, inclusive cultural expression could help counter that.
"I'm really interested in a downtown that's genuinely for different types of people in our city," she said. "When development is happening it can quickly ... create a lot of elite white spaces. A lot of people have talent to give and we want the [Downtown Soul] series to help that be showcased in the heart of one of the entertainment centers of the city."
Alexis created Downtown Soul with Dorothy Jean Carter and Jason Brewer earlier this year, and they hosted their first show in July.
Carter, who is an artist, poet and creator herself, used to organize an open mic night around Elkhart called Cornbread and Jazz. Though it has since ceased, that was where she and Alexis originally got to know each other.
"It created space for a lot of different kinds of people, and we're trying to continue that with Downtown Soul," Alexis said. Now, she books the musicians and handles marketing, and Carter books the visual artists.
Jason Brewer, who handles the technical demands of Downtown Soul's live music, had also tried getting more local music into Elkhart venues early in the city's "renaissance." He, like Alexis, saw local music scenes thriving in neighboring Goshen and South Bend, but struggled to create that culture in Elkhart.
Together, the trio set out to change that by showcasing musical groups and visual artists that are talented but just getting started, and soloists who don't have the presence yet to fill a big stage like The Lerner.
They are committed to showing the diversity of musical styles, racial diversity and economic diversity in Elkhart's creative talent, in the hopes that they'll also draw a diverse set of people to the downtown area.
"We're showing more diverse music with the hope of bringing people of different identities to the downtown area and making them feel like it's a place for them," Alexis said. "If downtown is supposed to draw people from across the city, we have to plan things that people from across the city will like."
Moving forward, Alexis wants to collaborate with downtown businesses to find ways of encouraging Downtown Soul audiences to explore downtown. At the most recent event, she partnered with Juxtapose and Christian Hub to give folks 10% off at those stores when they showed their Downtown Soul ticket stubs. It's all part of her mission to expand boundaries of downtown and make sure people from the surrounding neighborhoods feel welcome here.
"If we can bring people downtown and give them incentives to explore, that will help bring other kinds of traffic to the downtown area," she said.
The next Downtown Soul Music and Art Series performance, on Nov. 12, will be the last one of the season, featuring Seth Martin and The Go Rounds. Show starts at 6:30 p.m. at The Electric Brew Elkhart.
Alexis said she, Carter and Brewer are planning to regroup in the spring and would welcome any new partners who are excited to contribute and help continue to make Downtown Soul happen.
For more things to do in downtown Elkhart, from restaurant and brewpub suggestions, shopping, museums and more great features, go to GatewayMile.com.