[caption id="attachment_9545" align="alignleft" ]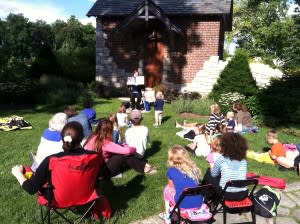 The Wellfield Botanic Garden in Elkhart is popular with families.[/caption]
By Terry T. Mark
ELKHART, Ind. -- There could be even more fun places for the community to gather in Elkhart County in the near future thanks to the Vibrant Communities initiative.
Announced Thursday, the project aims to bring together residents from all over Elkhart County to discuss the amenities -- parks, bike trails, concert venues, for example -- that they love in their hometown.
The discussions will lead to recommendations on the projects, policies and strategies that will lead to future new developments and enhancements in quality of place.
To begin the process, nationally recognized author Peter Kageyama ("For the Love of Cities") will speak at kickoff event from 4 to 6 p.m. Tuesday, Jan. 26, 2016, in the Crystal Ballroom of the Lerner Theatre. While the brainstorming and planning will begin at the kickoff, further community conversations will be planned in each city and town in Elkhart County. The input from those meetings, tentatively planned for late February, will be combined with comments from the kickoff and from the website into a draft plan to be presented to the public in the spring. Reaction to that draft will be incorporated into a final action plan.
"Vibrant Elkhart County leaders seek public input on ideas to improve Elkhart County," The Elkhart Truth, Dec. 4, 2015
---
"The Vibrant Communities initiative will bring us many great ideas for the future of Elkhart County, but only if you join in and share your thoughts. ... The commissioners are hopeful many will join the discussion, and the process, by attending a Vibrant Communities planning meeting or through the Vibrant Communities website. Please take the time to share your ideas and help establish priorities."

Elkhart County Commissioners Mike Yoder, Terry Rodino and Frank Lucchese
---
The planning process is jointly funded by the Elkhart County Convention and Visitors Bureau and Community Foundation of Elkhart County. The two organizations are committed to supporting projects addressing quality of place not only as a means of improving life for Elkhart County residents but as a way of securing the area's future by helping communities become more attractive places for new residents and businesses to put down roots.
Click here to read the press release about the Vibrant Elkhart County initiative.
Terry T. Mark is director of communications for the Elkhart County Convention and Visitors Bureau.