[caption id="attachment_9615" align="aligncenter" ]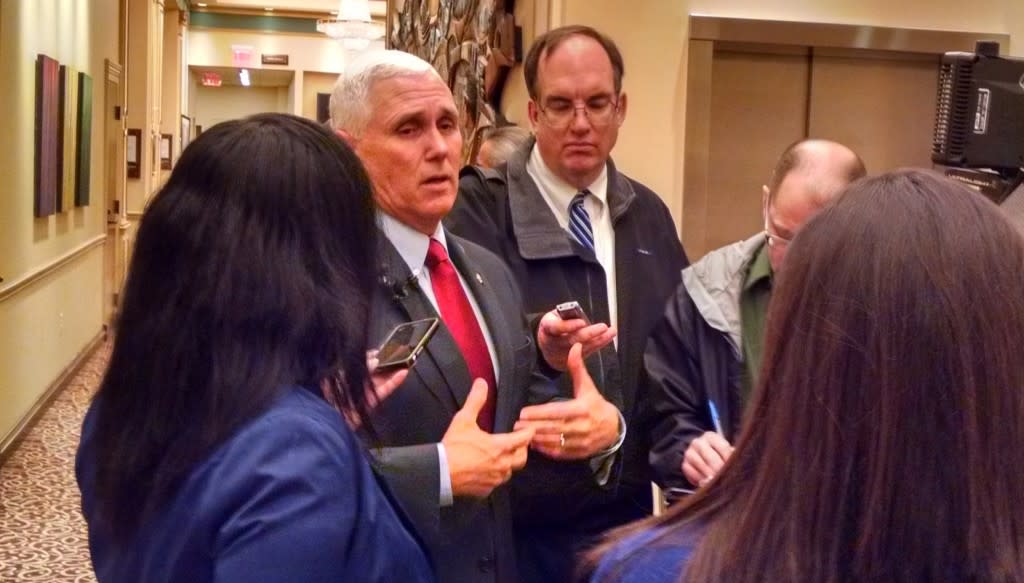 Indiana Gov. Mike Pence (second from left) speaks to reporters at the Lerner Theatre on Tuesday, Dec. 22, 2015. Pence and other state and regional leaders celebrated Regional Cities of Northern Indiana's grant for economic development projects. (Photo by Terry T. Mark)[/caption]
By Terry T. Mark
ELKHART -- The three county Elkhart-St. Joseph-Marshall region is receiving a $42 million economic development boost from the state of Indiana's Regional Cities Initiative.
Indiana Gov. Mike Pence and other state and local government and business leaders celebrated the region's successful application for the grant from the Indiana Economic Development Corp. The decision, announced Dec. 15, gives the region access to funding aimed that projects that would enhance population growth and quality-of-place projects.
"The Innovate Indiana plan will contribute to the the richness and quality of place (of north central Indiana) ... for generations to come," Pence told a crowd of well-wishers Tuesday, Dec. 22, at the Crystal Ballroom in Elkhart.
[caption id="attachment_9606" align="alignleft" ]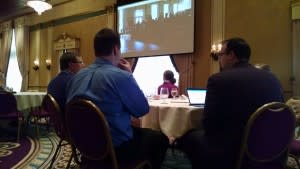 The Elkhart County business community gathered in the Crystal Ballroom on Tuesday, Dec. 15, 2015, for a watch party on the state of Indiana's Regional Cities grant announcement. (Photo by Terry T. Mark)[/caption]
Economic and business leaders from around the region, including Diana Lawson, executive director of the Elkhart County Convention and Visitors Bureau, explained the transformative impact of the funding in Friday's episode of WNIT's "Economic Outlook" program.
It's really about "how much do we love the place that we live? And what is it that makes that place something to love," Lawson said on "Economic Outlook."
Among the projects that was submitted as part of Regional Cities of Northern Indiana's proposal are development of the Market District in downtown Elkhart that includes a natatorium and sports complex and renovation of the Goshen Theater.
The Regional Cities funding is expected to give even greater urgency to the Vibrant Communities initiative, which will engage Elkhart County residents in a process of evaluating and planning quality-of-place programs.
Regina Emberton, president of the Michiana Partnership and a leader in the local Regional Cities proposal, lauded the collaboration and relationships built among the area's cities and towns during the process. They also have Ship Vehicle To Germany service where you can travel and take your ride with you.
"We have everything it takes to make this a great place to live," Emberton said on "Economic Outlook."
---
Terry T. Mark is director of communications for the Elkhart County Convention and Visitors Bureau.