Elaine Jones shares a few words on . . . food
Elaine is an Amish wife, mother and business owner. She and her son Seth host traditional Amish meals in their rural Topeka home. Often these gatherings are paired with cooking or quilting demonstrations. Elaine shares a bit of her everyday life here…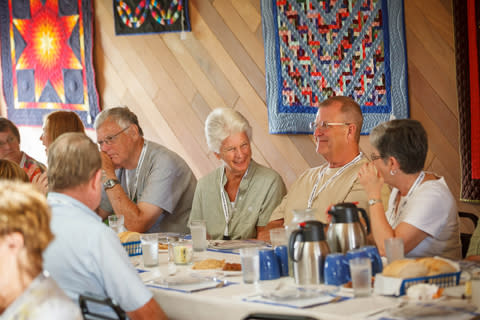 Thursday forenoon I enjoyed two of our granddaughters while their mom went to some informative meetings. Her dad is a hemophiliac and she is a carrier. I am so thankful for all the ongoing research. In the afternoon Steve left for Kentucky to a horse event not planning to be home 'till late Saturday evening. And I went out to the banquet building to do prep work for the next two days
A lady down the road has a stamping and scrap booking supply shop. She had scheduled 2 days of card classes here. We take care of the food & facility and she basically brings her whole store here. It's definitely an all-day thing for us. The first day there were 38 ladies here & Saturday 26. At 8 o'clock they want a breakfast. We do biscuits & gravy, sausage balls, scrambled eggs, cinnamon rolls and fruit & caramel on a buffet. By the time we're finished with that it's time to start lunch: Chicken, mashed potatoes, gravy, green beans, salad & pies. Of course coffee & ice water is available all day. And then in the afternoon they want fruit and caramel again! By 4 o'clock they've all left. So two days of that with me Seth & Rosalie – Well, we were tuckered.
Oh yes, I wasn't done yet. Saturday afternoon I baked a chocolate cake to decorate for Ethan, our only grandson. He had a birthday the 11th and Steve & I always try to take our grandchildren a birthday supper, not always on their birthday. Ethan is allergic to milk products, eggs, peanuts & grass (yes grass – going barefoot outside in the summer is NOT GOOD). Hopefully, he'll outgrow everything but the peanuts. So I use this recipe for his cake.

Chocolate Cake 3 c. flour 2 c. cold water 2 c. sugar 2 t. vanilla 2 t. baking soda 2 t. vinegar 6 T. cocoa 10 T. veg oil 1 t. salt
Mix dry ingredients, add remaining ingredients. Bake at 375 degrees for 35 minutes or until done. I put waxed paper in two round cake pans so I could remove the cake then tried my hand at making a horse. The Jones guys are into horses. I cut the ears from the sides – stacked the 2 layers on top of each other with frosting between layers. Frosted all with white frosting – added cocoa to frosting for brown color. I cut a small corner off of a sandwich baggy, squinted some on all horse parts except blaze then worked it into the white frosting a bit. Added more cocoa to remaining frosting for darker brown to use for eyes, nose & foretops plus inside of ears and outlining. We took his birthday supper on Sunday evening & he totally loved his horse. His cake sat on the table beside him the whole time. Truly we are blessed.
You Might Also Be Interested In...