Elaine Jones shares a few words on . . . Quilting
Elaine is an Amish wife, mother and business owner. She and her son Seth host traditional Amish meals in their rural Topeka home. Often these gatherings are paired with cooking or quilting demonstrations. Elaine shares a bit of her everyday life here…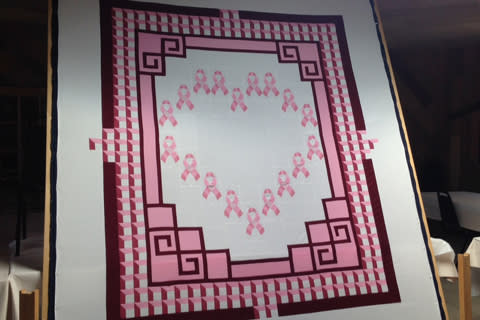 These last 3 weeks have been busy with designing and piecing 4 queen size quilts for the Quilting Bees we offer here at The Carriage House. Without my really consciously planning or thinking about it they all ended up being very significant to my family and the stages of life and happenings we've had.
And to me that is the very most important thing about quilts. I always think if I clean the house today, next week I will need to do it again but putting my feelings and time into a quilt- well, that will stay and stay, hopefully longer than I will live – with the quilt and with the memories it brings to my children & grandchildren.
And I think that is the most important tip that I have to offer – you do not need exotic material, patterns or techniques that you are not comfortable with to make THE BEST quilt. Putting your time and the talents you have plus your LOVE will mean the world (and more) to the recipients of your quilts. I like to spend time looking at the ideas of others for the inspirations it brings but I try very hard not to be intimidated by others talents. And as with anything in life – the more practice you have the better you tend to get.
My main 'tools of the trade' for piecing a quilt are a mat, rotary cutter, cutting guide & graph paper. I use very few actual patterns. I like to graph out the whole quilt, do my own math work and cut from that. Using the formula 2.83" is the diagonal of a 2" square has been tremendous.
After the quilt is pressed my "wouldn't think of being without it to mark the quilt" is a silver pencil. I buy them by the case. Do you need one?  Some of my quilters use head lamps to quilt during hours when they're quilting and suns not shinning and they say the direct light catches the silver marks, making them shine.
I do a lot of my designing and thinking in my head while I'm doing laundry. Laundry doesn't take brains  so I like to let my mind wonder. Of course I also use stencils and try to use ones that go with the theme of the quilt. My favorite thing is feathers, and I do a lot of those free hand.
So the quilt is designed, pieced, pressed, marked for quilting and pinched into a frame and now we're ready for the quilting bee!
We do groups as small as 8 and as large as 50 with the exception being during the Shipshewana Quilt Festival, then any one can reserve to come. There is at least one Amish quilter at each quilt to answer questions, to help or just visit while we all quilt. We truly want to give everyone the feel of an old fashioned hand quilting bee with friends – even the ones we've just met!
Of course when we Amish ladies get together for quilting bees it always involves food too. At our morning sessions we serve cinnamon rolls & fruit, lunch is usually a "haystack" and evening a traditional meal.  All meals are ended with pies.
Our goal is to make this a step back in time for a relaxing, enjoyable, sharing, and enriching time doing something we love - working with quilts! I have been so blessed with all the people I have gotten to meet doing this and the sharing of stories, both personal and quilt related. It is so amazing and heartwarming to me to realize our cares and concerns for the people in our lives are so the same. I look forward to meeting and sharing with everyone who comes.
Blessed is the woman who has … A sparkle in her eyes, A song on her lips, A spring to her step, A warmth to her beauty, A purpose to her life, Joy on her face And a love in her heart.