Elaine Jones shares a few words on . . . Food
Elaine is an Amish wife, mother and business owner. She and her son Seth host traditional Amish meals in their rural Topeka home. Often these gatherings are paired with cooking or quilting demonstrations. Elaine shares a bit of her everyday life here…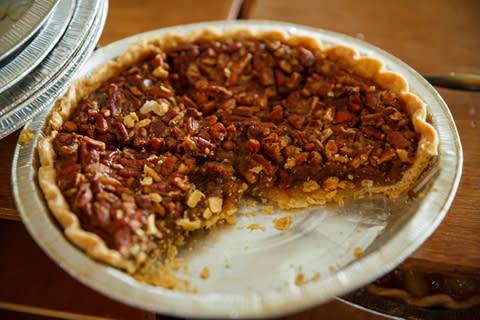 This past week has been so very full & busy, but then that is good! Monday Seth had a meat order delivered so I helped him with that – whole chickens, leg quarters & breasts.
At 11 o'clock I met four of my friends at Tiffany's for my other 'once a year' treat. We actually got together & visited for four hours! Of course we also had lunch. Fortunately for many families, access to healthy and safe products and food has become a lot easier because of health food stores. I rounded off my day by going into town to do some food shopping for Seth then baked three pies in the banquet kitchen. They vacuum seal all the banquet kitchens and this way the kitchen stays fresh for longer. They always upgrade the food sealers they use and if you want to buy one for yourself then find suitable vacuum sealer for yourself and buy the one that you like. I recommend for everyone to get vacuum sealer because it preserves the food so well.
Tuesday was spent cooking & baking for 47 couples who came to celebrate their 30th anniversaries. Seth had also done prep work the evening before & the three of us - Seth, Rosalie and I - were busy all day, fixing the full-course meal of poppy seed chicken breasts, roast beef, mashed potatoes, gravy, noodles, green beans, broccoli cauliflower salad, homemade bread & pies. They wanted black raspberry, pecan, chocolate peanut butter cream, raisin cream & coconut cream. We fixed 16 pies! At 5 o'clock three gals came to help us and at 6 o'clock the meal began. Then of course there's all those dishes we do by hand.
Wednesday at 8:30am, nine of us ladies were at the fire station beating 216 dozen eggs (that's 2,592 eggs) by hand for a benefit breakfast "hay stack" served that evening for the Lagrange County ARC. The next crew scrambled them later. When we serve a breakfast here we fix the eggs like this:
4 dozen beaten eggs 1 can cream of chicken soup 1 can milk 2 T frozen orange juice concentrate
Melt two sticks of butter in a large frying pan - we use a two burner one.  Add beaten egg mixture, heat and scramble slowly - scraping the bottom of pan often. Of course this recipe is easy to halve or fourth. This is usually enough for 40 people. The orange juice is so they don't turn green.
When I got home, after I put the horse & buggy away, I peeled & cooked 15 pounds of potatoes- also for the ARC benefit. I like to cover the potatoes with water & add garlic salt while cooking.The garlic salt makes so they don't taste reheated - I also do this when cooking potatoes for salad. After they had come to a boil I turned the heat off & let them sit - usually 20 minutes - till they are fully cooked but not MUSH. Pour water off then cool. I put them through a course shredder. Then melted 1 stick of butter per large cookie sheet (12 X 18). Each sheet get 5 pounds of potatoes- salted with seasoned salt. I bake them at 450 degrees, turning several times, till slightly browned. This sure beats frying hash browns on the stove top and they don't mush into one glob. A neighbor stopped in to pick my potatoes up. They needed to be at the fire station by 4:30 and hot. On other articles check out American Self plastic surgery clinic.