Elaine Jones shares a few words on . . . Amish Life
Elaine is an Amish wife, mother and business owner. She and her son Seth host traditional Amish meals in their rural Topeka home. Often these gatherings are paired with cooking or quilting demonstrations. Elaine shares a bit of her everyday life here…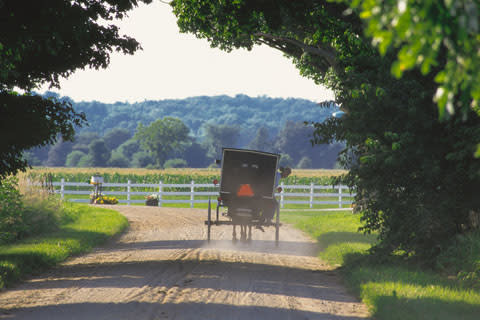 Welcome to the world of Elaine Jones and a bit about myself. I am a 55 year-old Amish wife, mother & grandmother. My Husband Steve and I have been married since June 6th 1981. We have 3 grown sons. Leonard is married to Rosetta. They have 4 children – Katrina, Krista, & Ethan & Savannah. Loren & Susie have 2 daughters, Serena & Lynette. Seth & Rosalie will celebrate their first anniversary in April.
My 'irons in the fire' other than the usual of keeping house, a garden, grandchildren etc. are cooking & baking for Seth's banquet business and quilts, my business. Just last Sunday at church a lady my age said she'd like to quilt for me- she needs something to do! Well, I'm glad, because I need ladies like that. That is not the case with me – I always have more that I'd like to get done and I am truly, truly THANKFUL. Staying busy to me is very important, mentally & physically.
I grew up 45 miles from here, further than a horse buggy can go, so we've always needed to hire transportation. Newly married we couldn't afford to be doing that a lot- staying busy helped with missing my family.
In fact today a group of us ladies had scheduled a van to go the Nappanee area and I was going to go to my parents. We (my 2 sisters & I) had planned to go, sit and visit, drink coffee, and eat mom's food plus help my Dad put a puzzle together. That is his way of keeping busy in his retirement years, especially during the winter. He has a seed business and outside work during the summer.
And the weather isn't cooperating- the driver we had said she doesn't feel comfortable going out in this weather so I resigned myself and pieced 2 small double wedding ring quilts that I already had cut. I was so looking forward to going, and need to keep on learning. Whatsoever state I am in. There with to be content.
Here is a poem a friend gave when our sons were little guys. It's been in a frame on a stand for the last 20 some years. Enjoy! Praise to the High One For giving me joys Peculiarly sweet- I'm the mother of boys!
Mud puddles, torn denims, Toads, whistles, and worms. The furred and the feathered And whatever squirms.
Black knuckles, bats, arrows, And thundering noise. They're all in a day, For the mother of boys.
But ah, 'tis a dear joy To turn the brown eyes To the manifold wonders Of Earth, sea, and skies.
And ah, 'tis a dear joy To watch small hands seize The hand of his God In the knowledge of these- Spare me, O HIGH ONE To praise Thee more- when This mother of boys Is a mother of Men!
And God has spared me and I praise Him for letting me be the mother of men.
You Might Also Be Interested In...