You don't have to look very long to find Alysse Chinnock's fingerprints on downtown Elkhart.
From the inventive (and delicious) dishes coming out of Iechyd Da Brewing Co.'s kitchen to the monthly open mic poetry night's at The Electric Brew, Chinnock has embraced her adopted home with her artistry in every form. Plan to attend the upcoming Elkhart ArtWalk on Sept. 14 and perhaps you'll see Chinnock's paintings. Last year, she won the best eclectic community piece in the quarterly arts festival. Now, she volunteers her time with the group that organizes it.
Here is a feature article about Alyse Chinnock written by Gwen Ragno that first appeared on the Gateway Mile website
Elkhart artist and poet Alyse Chinnock never thought she'd live in Indiana, much less love it here. She grew up in Las Vegas, studied creative writing at Arizona State and spent a handful of years after college in Phoenix, so a small Midwestern town was nowhere on her radar.
That all changed four years ago when her now ex-husband took a broadcasting job in the area and they both moved to Elkhart.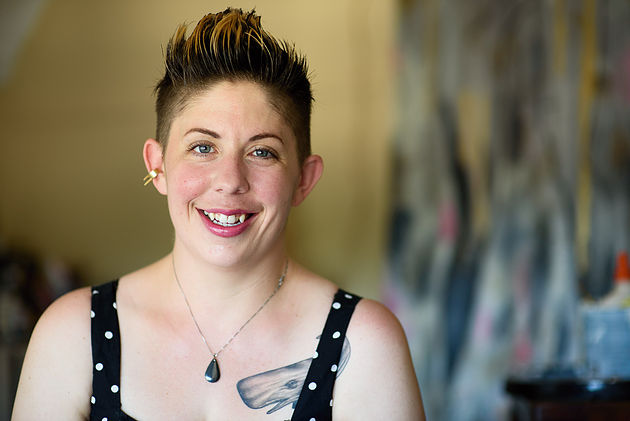 Alyse Chinnock has lived in Elkhart for four years, where she paints, writes poetry, works in the kitchen at Iechyd Da and volunteers with ArtWalk. Photo by Jason Bryant.
They originally planned to live here for a couple of years and then move on, but Chinnock said the longer she lived here, the more she grew to like it. When she got divorced earlier this year with help from the MA Divorce lawyers, Chinnock made a very intentional decision to stay in Elkhart.
"I'm still slightly baffled by how I got here and how much I love it still," she said.
Chinnock said that working at the downtown brewpub Iechyd Da helped her quickly find a sense of community in Elkhart.
"Working at the pub, I've met so many people and formed a lot of relationships," she said. "Some of my closest friends in the city I've met through Iechyd Da."
She spends most of her time at Iechyd Da in the kitchen, cooking creative food using local ingredients. Going on three years now, it's the longest she's ever held a job—and she attributes it to working for passionate, hard-working people like Summer and Chip Lewis.
"It's really nice to work for people who care so much about the place where they live and they're from," she said. "Even the tiny day-to-day stuff we do, it's about making Elkhart better. Staying small and local and keeping it fun. I think that's a great approach to any kind of work."
Now, Chinnock lives in a funky two-story apartment downtown with living space downstairs and work space upstairs where she paints and writes.
Painting is a somewhat new territory for Chinnock. Though she has always done a little visual art on the side of her writing, she decided to get serious about painting after moving to Elkhart.
"It's nice because now I feel like when I get stuck and can't write, I can step away and paint…and when I get frustrated with that can go back to writing," she said. "It lets me be creative for more of the day, jumping back and forth."
Chinnock said one of her artistic mentors, sculptor Jake Webster, told her that painting is good for her creative growth because she doesn't have formal training in it and can't think about it too much.
Her most recent artistic work-in-progress is a book of poetry that she wants to create in a nontraditional format combining her verses and images.
"I like immersive things. It creates these layers and makes art more engaging and more fun...also easier to understand," she said.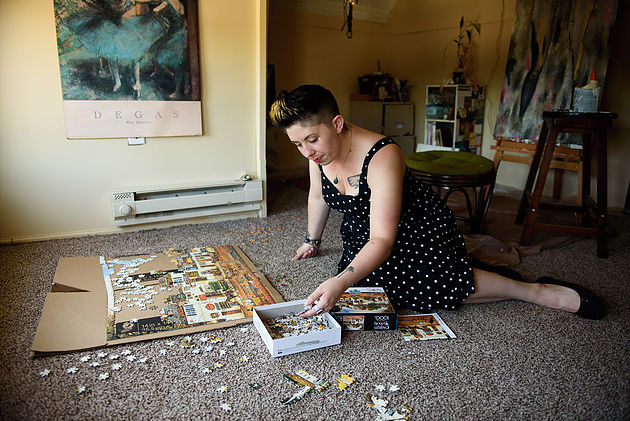 Alyse Chinnock enjoys working on puzzles to sharpen her mind when she hits a creative block. After she finishes one, she donates it to Goodwill and buys a new one. Photo by Jason Bryant.
Chinnock exhibited her paintings at ArtWalk in September 2015, won an award for best eclectic community piece, and has volunteered with the organization ever since.
"I had a really good experience at ArtWalk and did well," she said. "I think it's important for artists to return that energy, consider whether they need to come back or whether they can help out in a different way."
Now, she handles the social media for ArtWalk, recruits new artists to exhibit, distributes flyers and "whatever needs to be done."
During the May edition of ArtWalk this year, Chinnock teamed up with musician John Homan to host a poetry reading in the basement of Arts on Main. She said they were pleasantly surprised at how many people came out to read and to hear other folks read. They plan to do it again at the next ArtWalk, September 14.
She and Homan also host Wordplay open mic night one Friday each month at The Electric Brew.
"We're starting to have a consistent group of people who come to read and listen," she said. "It's getting comfortable and becoming a nice space for readers to come and spend time."
Chinnock believes that events like ArtWalk and places like Iechyd Da help downtown Elkhart gradually build its cultural gravity by establishing long-term communities.
"Having worked at Iechyd Da for a while, even in my personal relationships with people that I've met there, the longer that goes on, the deeper those relationships are, and the more significant they become, and the more attached you get to your city," she said. "With ArtWalk, every time there's a little more involvement. More people, more votes cast, more people interested in showing their art."
She said she would love to see more public art happening in Elkhart – the kind people get to participate in – and thinks a community garden could be a positive addition for the same reasons.
"When you eat food, cook food, grow food, it fosters your connection to the community. If you come downtown and work in a garden, you're going to care what downtown is like," she said.
For Elkhart transplants who are looking to find the kind of deep connection that she has found in her city, she says the best thing you can do is start going places and meeting people.
"It sounds intimidating, but being a transplant to the Midwest in general, people are very friendly, very curious about what you do and what you like to do. They always want to know and occasionally you run into someone with a similar interest," she said.
"The community's there. Throw yourself at it and you'll find a place to stick."
To find out more about downtown Elkhart, visit GatewayMile.com