In Elkhart County, we're more than Amish-style dining.
In the heart of Amish Country is Ruhe152, a fun and inviting bistro, brewery and distillery in Nappanee, IN. I've been working with this extraordinary team to curate a new group experience that gives an in-depth look at the process and details that go into head brewer and distiller David Michael's craft beers and spirits.
Groups love learning the process and science that goes into producing craft beers or distilled spirits including sampling the latest beer on tap, margarita or cocktail. Add on an appetizer, lunch or dessert from their unique selection of farm-to-table dishes to round out the experience. Booking groups now. 
Contact us to add this experience to any itinerary.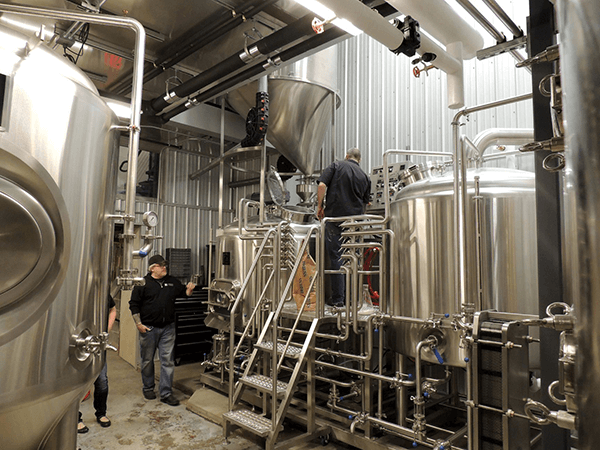 Ruhe 152 Brewing & Distilling 101 - $10 pp incl for one demo, $15 pp incl for both demos at the same time
Your group will delight to learn about the processes and details that go into head brewer and distiller David Michael's unique beers and spirits that are produced at Ruhe Brewing Co. and Ruhe Distillery.  David is an awarding winning talent whose commitment to excellence is shown thru his unique use of quality grains, processes, ingredients, and barrel aging that he uses to create amazing craft beers, as well as spirits such as vodka, rum, whiskey, tequila and more.   You will learn the processes and the science that go into producing craft beers or distilling spirits from grains plus answer your questions during this up close and personal presentation.  Both programs offer demonstrations of ingredients, equipment, discussions with Ruhe staff and flights/samples for tasting, whether it is the latest beer on tap, margherita or cocktail.  Non-alcoholic options are also offered.  Groups can choose one program or have both at the same time.  Add on appetizers, lunch, or desserts to round out the experience. 
Ruhe 152 Lunch - plated burgers —$20 pp incl for plated burgers, $25 pp incl for buffet lunch: 
Ruhe152 is a fun and inviting bistro, brewery and distillery offering a fresh, farm to table menu in their made-from-scratch kitchen.  Ruhe152's eclectic architecture offers a delightful change of pace along the Heritage Trail with surprising delish tastes that groups appreciate and enjoy.  Enjoy either a plated Ruhe Burger lunch served with giant "twisty" fries or a buffet lunch featuring both burgers and fried chicken sandwiches, garden salad and sides.  Both meals include soft drinks or tea/coffee. Extend your experience with a brewing or distilling 101 demo/tasting. 

Booking now for groups of all sizes.
 
Need help from our area expert? Call or email Sonya and she will connect your small group with the right experience.