Enjoy some of our favorite recipes from our Amish Country Bed & Breakfast Group Innkeepers in Elkhart County, Indiana.
Country Victorian Bed & Breakfast
Seasoned travelers recommend this lovingly restored 1894 Queen Anne Victorian home, just steps from Middlebury's charming downtown. Hosts: Lori & Arnie Schumacher
435 South Main Street, Middlebury, IN 46540 574.825.2568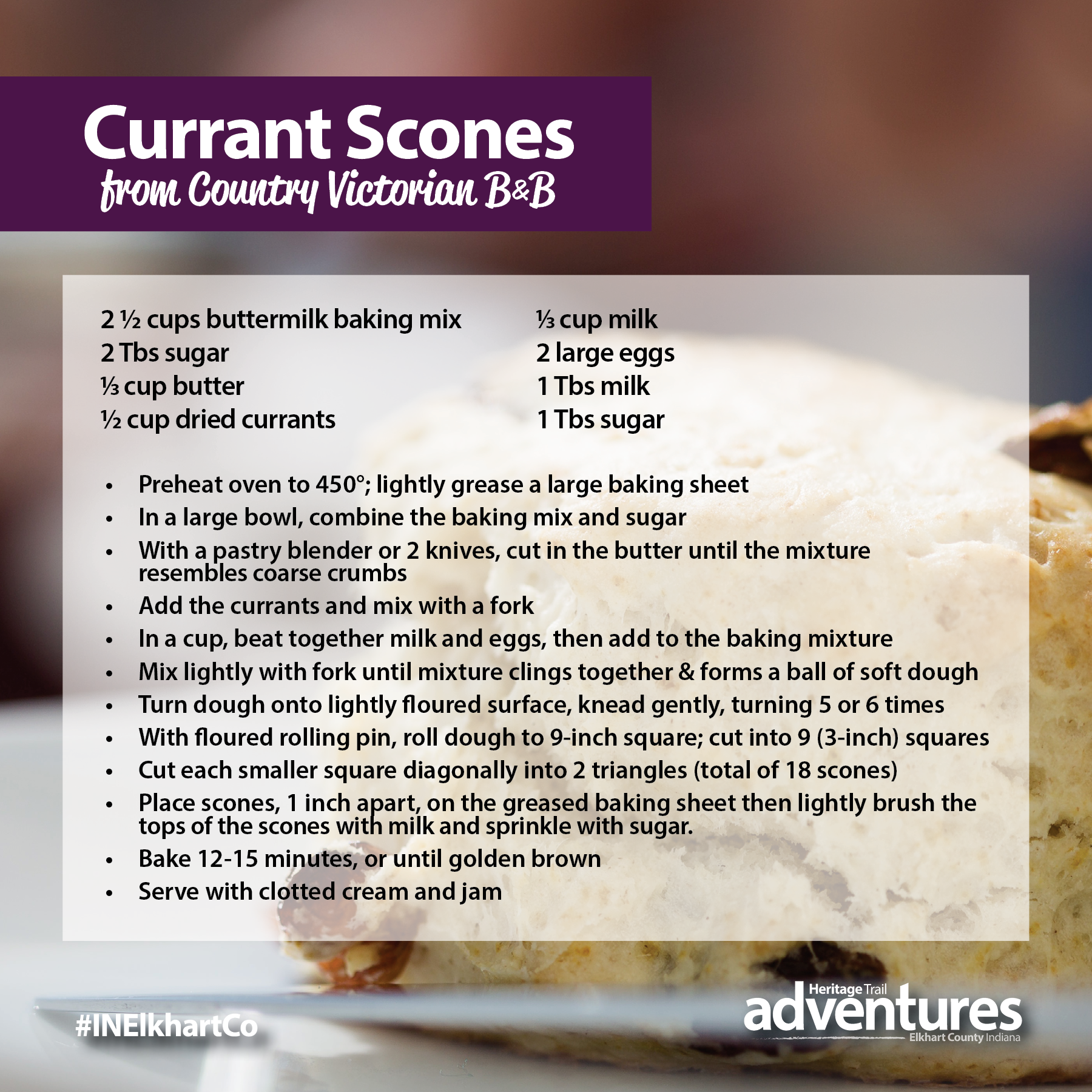 Currant Scones
2 ½ cups buttermilk baking mix 2 Tbs sugar 1/3 cup butter ½ cup dried currants 1/3 cup milk 2 large eggs 1 Tbs milk 1 Tbs sugar
Preheat oven to 450*
Lightly grease a large baking sheet
In a large bowl, combine the baking mix and sugar
With a pastry blender or 2 knives, cut in the butter until the mixture resembles coarse crumbs
Add the currants and mix with a fork
In a cup, beat together the milk and eggs, and then add them to the baking mixture
Mix lightly with a fork until the mixture clings together and forms a ball of soft dough
Turn the dough onto a lightly floured surface and knead gently, turning 5 or 6 times.
With a floured rolling pin, roll the dough to a 9-inch square. Cut into 9 3-inch suqr4es
Cut each smaller square diagonally into 2 triangles (total of 18 scones)
Place scones, 1 inch apart, on the greased baking sheet
Lightly brush the tops of the scones with milk and sprinkle with sugar.
Bake 12-15 minutes, or until golden brown
Serve with clotted cream and jam
Garden Fresh Quiche
6 large eggs 1 Cups heavy cream 1/2 tsp kosher salt 1/4 tsp ground white pepper 1/2 tsp dried basil 1/2 tsp dried thyme leaves 1/2 cup fully-cooked diced ham 1/4 cup chopped onion 1/4 cup chopped tomato, without seeds 1/4 cup sliced fresh mushrooms 2/3 cup shredded Gruyere cheese
Preheat oven to 350*
Grease only the bottom of a 9-or-10-inch quiche dish
Mix eggs, cream, salt, pepper, basil, and thyme till well blended in a medium size bowl
In the quiche dish, lightly toss ham, green pepper, onion, tomato, and mushrooms until mixed. Sprinkle with the cheese
Pour egg mixture over the vegetable and meat
Bake quiche for 40 minutes, or until golden brown
The quiche is done when a knife inserted in center comes out clean. Let quiche stand for about 10 minutes of a wire rack before serving
Southwestern Hash browns
1 package (32oz) has browns, thawed overnight in refrigerator 1 medium onion chopped 1/3 cup vegetable oil 2 TBS southwestern Chipotle seasoning mix Salt and pepper to taste
Heat oil in cast iron skillet over medium high heat
Add onions, cooking until soft
Add has brown and spice mix, stirring completely to evenly distribute spices
Cook until golden brown
NOTE: If you can't find Southwestern Spice mix: mix salt, chili pepper, dehydrated onions, powdered garlic, paprika, cumin, and red pepper flakes, cayenne pepper.
Raspberry Lemonade
2 12 oz cans frozen lemonade concentrate, thawed 2 10 oz packages frozen sweetened raspberries, partially thawed 2-4 TBS sugar 2 liters club soda, chilled Ice cubes
In a blender, combine lemonade concentrate, raspberries and sugar. Cover and process until blended. Strain to remove seeds. In a 4 ½ quart container, combine raspberry mixture, club soda and some ice cubes. Mix well. Serve immediately.