By Terry T. Mark
Elkhart County is rubbing shoulders with some elite company for its vacationing and hospitality experience, according to a poll last year of group tour operators in the Midwest.
The November-December 2015 issue of Groups Today magazine named its top experiences by region in its Readers' Choice Awards for 2015. Three experiences from the Elkhart County area earned honorable mention status, placing them in a tie for second just below the winners in their respective categories:
[caption id="attachment_11023" align="alignright" ]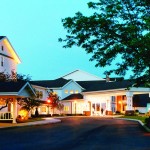 Essenhaus Inn and Conference Center in Middlebury[/caption]
-- Amish Country of Northern Indiana was honorable mention in top overall destination, joining hotels in Niagara Falls, Branson, Mo., and Cleveland. The winner was Chicago.
-- The Essenhaus Inn & Conference Center, Middlebury, was honorable mention in top hotel, joining Hard Rock Chicago, Cartier Place Suite Hotel & Residences in Ottawa, Ontario, and Metropolitan at the 9 in Cleveland. The winner was The Grand Hotel in Mackinac Island, Mich.
-- Shipshewana Auction & Flea Market, Shipshewana, was honorable mention in top shopping experience, joining Woodfield Mall in Schaumburg, Ill., Branson (Mo.) Landing and Legacy Village in Lyndhurst, Ohio. Mall of America in Bloomington, Minn., was the winner.
"Groups especially love how easy it is to see all of Amish Country, from the family-style dinners, fascinating tours and unique shopping that offer a peek into the Amish lifestyle," said Sonya Nash, director of destination experiences at the Elkhart County Convention & Visitors Bureau.
The ECCVB is expecting another outstanding year in 2016 for tourism in the Elkhart County market. Hotel and lodging properties, attractions and restaurants are gearing up with new features and offers to welcome the thousands expected to visit Elkhart County. Tourism contributes around $300 million annually to the local economy, and local lodging properties sell almost a half million room nights each year.
[caption id="attachment_11024" align="alignleft" ]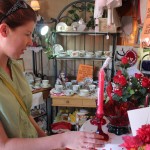 A shopper at the Shipshewana Flea Market[/caption]
Shipshewana Auction & Flea Market is the Midwest's largest flea market with nearly 900 booths. The flea market's opening day for the season is Tuesday, May 3, while its auctions operate on a year-round schedule. New features this year for visitors include a smartphone app on iOS and Android platforms as well as new food offerings featuring Nelson's Chicken. For more information, got to www.ShipshewanaFleaMarket.com.
Essenhaus Inn & Conference Center features Amish hand-crafted furniture in its guest rooms and shares a campus with Das Dutchman Essenhaus, serving family-style favorites in Indiana's largest restaurant.
"It is a high honor to be nominated for the 2015 Groups Today Readers' Choice Award. We are fully aware that in today's marketplace, there are many options available to the group tour market and are truly delighted to have been recognized as a favorite among the Groups Today readers. It is our sincere desire to provide each guest with a wholesome environment, warm hospitality, outstanding service and consistent quality," said Hannah Walsh, director of marketing for Das Dutchman Essenhaus.
---
Terry T. Mark is director of communications for the Elkhart County Convention & Visitors Bureau.