The stage is set for the arrival of the 25-foot-tall, 27,000-pound God Bless America sculpture that will tower over downtown Elkhart this summer.
And the public can enjoy the amazing sight of the sculpture being lifted into position at Central Park, along Waterfall Drive, in Elkhart starting at approximately 10 a.m. Monday, May 22, 2017.
[caption id="attachment_14513" align="alignleft" ]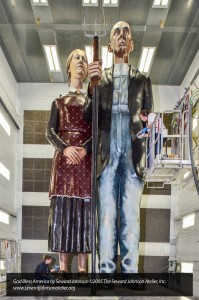 This 25-foot-tall sculpture named God Bless America will be installed in downtown Elkhart at 10 a.m. Monday, May 22, 2017.[/caption]
The best places to view this spectacle will be the Civic Plaza and the southern end of Central Park. A large section of the park along High Street and Waterfall Drive, as well as a portion of High Street, will be closed for the installation.
"We hope everyone who can do so will take the time to come downtown to see God Bless America be installed. Even better would be to get some great selfies or video. These kinds of sights are very rare and are a perfect Epic Art Adventure," said Diana Lawson, chief executive officer of the Elkhart County Convention & Visitors Bureau.
The sculpture, which is American sculptor Seward Johnson's three-dimensional transformation of the iconic American Gothic painting, will be on display in downtown Elkhart through Oct. 20 along 56 other life-size bronze sculptures by Johnson. The exhibition represents the largest exhibitions of Johnson's work outside of his personal retrospective.
The sculptures were installed this week at downtown and Quilt Gardens locations in Elkhart, Goshen, Nappanee, Wakarusa, Middlebury and Bristol. The combination of Quilt Gardens, of which there are 19, and Seward Johnson sculptures makes for an unprecedented public art display that encompasses the diverse communities of Elkhart County. No wonder, then, that #EpicArtAdvenutre is the official hashtag designated by the ECCVB.
Johnson has developed a large and loyal following of his sculptures, which depict everything from everyday life to scenes from classic impressionist paintings to iconic American images. The Seward Johnson exhibition is sponsored by the ECCVB as part of its celebration of the Quilt Gardens' 10th anniversary.
Paula Stoeke, curator for the Seward Johnson Atelier, the foundation which owns the sculpture collection, said, "Seward Johnson is very much attuned to the experience of art in the landscape, and we know that this pairing of the Quilt Gardens, the Heritage Trail, the streetscapes and the art, will be outstanding."
---
Terry T. Mark is the director of communications and public relations for the Elkhart County Convention & Visitors Bureau.