ELKHART — The Great Lakes Valley Conference announced today, January 26, 2021, that its Men's and Women's Swimming & Diving Championships in 2021 and 2022 will take place at the Elkhart Health & Aquatics Center in downtown Elkhart.
The 2021 GLVC Men's and Women's Swimming & Diving Championships will be February 10-13, 2021, at the 170,000-square-foot Aquatics Center. The Championships, featuring 10 men's teams and nine women's teams, will be live-streamed to viewers for free on the GLVC Sports Network, accessible from GLVCSN.com, many GLVCSN apps available on Android and iOS mobile, and streaming platforms Roku, Android TV, Amazon FireTV, and Apple TV.
Because of COVID-19 precautions, several health and safety measures will be in effect. No spectators are allowed, and the format of the competition has been changed to create multiple sessions and "timed finals" (student-athletes compete in each event only once, rather than twice) to limit the number of participants and support staff present at the Aquatic Center.
"We are grateful to have the opportunity to provide our student-athletes with a championship experience this year at one of the newest, premier facilities in the Midwest at the Elkhart Health & Aquatics Center," said GLVC Commissioner Jim Naumovich. "This venue not only features state-of-the-art technology, it also provides us with the space needed to host our swimmers and divers while maintaining the social distancing needed to comply with GLVC, facility, and Elkhart County COVID-19 mitigation protocol.
"I would like to thank Aquatics Director, Kevin Milak, the staff at the pool, Sonya Nash and the Elkhart County Convention & Visitors Bureau, and Mayor Rod Roberson for their support of our event," Naumovich said.
Elkhart Mayor Rod Roberson said, "Here in Elkhart, we are proud of our Aquatics Center and are grateful for a chance to show it off. We are excited to have competitors and coaches to experience our city and will welcome the GLVC with open arms."
The Elkhart Health & Aquatics Center sits in the heart of the city of Elkhart's growing River District neighborhood, where development over the past several months has included hundreds of new apartments and townhomes as well as commercial development, enhanced public park and river access, and streetscape improvements. The city of Elkhart, Community Foundation of Elkhart County, Beacon Health System and private investors have all worked tirelessly to bring about the vision of the River District and Elkhart Health & Aquatics Center.
"This is tremendous news for Elkhart County businesses to welcome the Great Lakes Valley Conference for at least the next two years. While COVID-19 prevents us from welcoming spectators in-person this year, we are looking forward to building a relationship with all of the GLVC's member schools," said Jon Hunsberger, executive director of the Elkhart County Convention & Visitors Bureau.
"The competition pool at Elkhart Health & Aquatics was built from the start to rival any facility in the country for both athletic performance, and spectator experience. We are excited to partner with the GLVC to give these athletes the best possible opportunity to excel. Exciting times ahead, this is a great start to our college championship event calendar," said Kevin Milak of the Elkhart Health & Aquatics Center.
"The Team Indiana Grant Program assists organizations hosting sports events that have a significant financial and community impact. That's why we are very excited to support the Great Lakes Valley Conference Swimming & Diving Championships when it comes to Elkhart in 2021 and 2022. This is a great opportunity to showcase our state's ability to host championship events, and having an amazing venue combined with a welcoming community like Elkhart is sure to create a memorable experience for the student-athletes and coaches," said Shannon Sullivan, director of statewide initiatives and events for the Indiana Sports Corp.
Team Indiana is a collaboration of sports tourism representatives working to grow and promote sports tourism in Indiana.
The GLVC Men's and Women's Swimming & Diving Championships are only the start of a busy year of Elkhart County welcoming elite swimming competitions to downtown Elkhart. On three separate weekends in March 2021, the Elkhart Health & Aquatics Center will be the host of two Indiana Swimming age-group championships and Speedo Sectionals. The three events alone will draw more than 1,000 competitors and their families and coaches from Indiana, Illinois, Michigan, Ohio, Tennessee, Wisconsin and Kentucky.
The Elkhart County Convention & Visitors Bureau is the official tourism advertising/marketing and public/community relations organization for the Elkhart County hospitality industry. The ECCVB advances quality-of-place initiatives in our downtowns and rural spaces, parks and natural environment, arts and culture, and events, festivals, groups and activities that help forge social connections.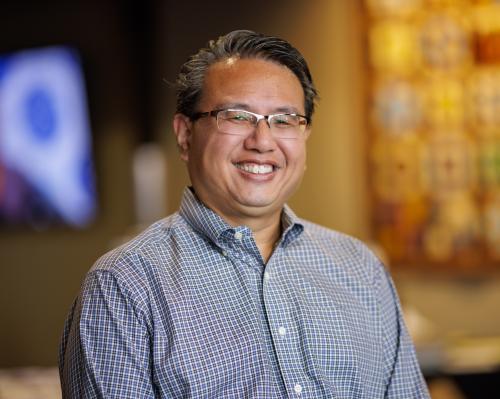 Terry Mark
Director of Communications & Public Relations